Caitlyn Jenner Describes Terror Over ESPY Awards Speech On 'I Am Cait': 'I Feel So Much Pressure'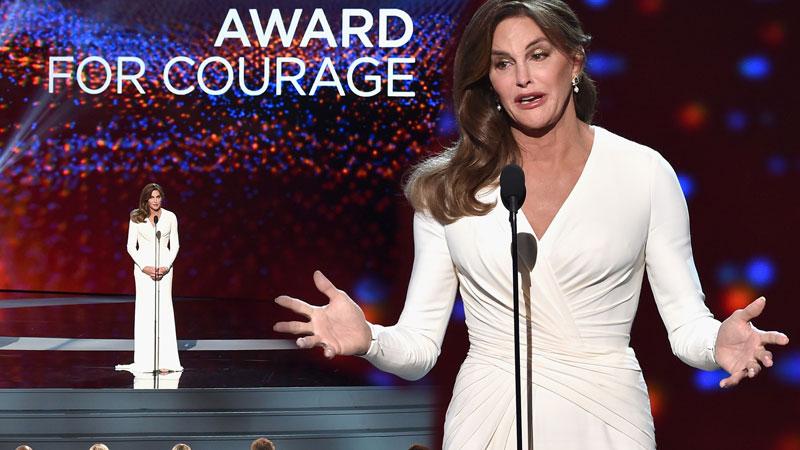 One milestone complete!
On the latest episode of I Am Cait, Caitlyn Jenner faces her fears and addresses her friends, family, fans and fellow athletes at the ESPY Awards.
The Olympic legend, 65, is riddled with anxiety before she takes the stage and as she puts it, does "the biggest pressure thing" she's ever done.
First, she meets with celeb stylist Jen Rade to discuss her fashion game for the big day.
Article continues below advertisement
When Rade asks if she's comfortable in high heels, Caitlyn laughs.
"I've been doing it a long time, girl!" she says. (She has opened up about frequently dressing as a woman in private during her years as Bruce.)
Before the big night, Caitlyn's supportive sisters arrive to her Malibu estate along with their wheelchair-bound mother Esther, 89, who recently suffered a broken hip.
Despite the familial backup, Caitlyn confesses that she's never been more terrified in her life;.
"I feel so much pressure giving this speech about a subject I know very well, but I've never ever talked about in public," she admits. "It's so so important that I get it right. So important for me, and for this community."
To take her mind off the pressure at hand, Caitlyn first has a fun ladies' night out with her sisters, mother and big group of new trans women friends.
Esther bonds with Caitlyn's BFFs Candis Cayne and Chandi Moore, and politely asks questions about their own transitions.
Article continues below advertisement
"I still have a lot to learn!" Esther laughs.
Then the big day arrives.
Of course, a Versace-clad Caitlyn accepts the ESPY Arthur Ashe Award for Courage with grace, and the terrifying event goes off without a hitch.
"What an enormous amount of weight off my shoulders!" she says. "This is bigger than just me."
In an effort to remind viewers that trans issues are bigger than making speeches at swanky Hollywood awards shows, Caitlyn and Candis visit community activist Chandi's organization Blush, a support group for gender nonconforming youth in Los Angeles.
The young trans members discuss harassment from police and other problems that arise with government identification cards not matching their changed genders.
"This puts my personal challenges into perspective," Caitlyn tells the cameras.
Not that her life is easy. During the end of the episode, Caitlyn prepares to finally meet up with ex-wife Kris face to face to discuss lingering tension in their relationship.
Article continues below advertisement
To discuss the upcoming meeting, Caitlyn chats with trans friend Jennifer Finney Boyle and her wife Deedie, who stuck with her writer/professor spouse through the transition 15 years ago.
"There's a period of real mourning, of real loss of your mate, your partner," Deedie explains of Kris' possible emotions.
When Kris finally arrives to Caitlyn's home, she appears friendly and chatty.
"Look at those shoes!" Kris exclaims when she sees the fashion-forward Caitlyn. "I brought you some cookies."
But tensions rise to the surface when the two women sit down on the couch in front of a plate of cheese and crackers.
"So?" Caitlyn asks— just as the screen flashes "to be continued."
Do you think Kris and Caitlyn will make up? Sound off in the comments and watch the I Am Cait season finale next Sunday at 8 pm est on E!.