Federal Pen Pals: Teresa Giudice's Secret Prison Emails To Andy Cohen -- Making Plans?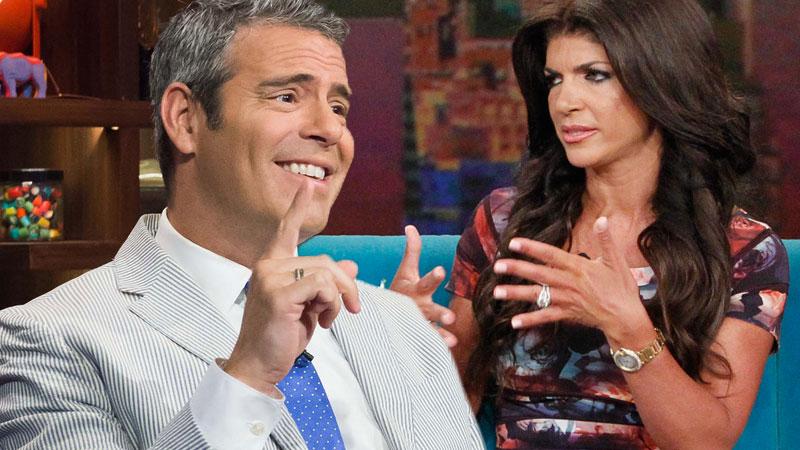 Teresa Giudice may be locked in the big house after she and her husband Joe pled guilty to wire, bank, mail, and bankruptcy fraud, but the glam Jersey girl isn't letting a little thing like jail keep her from chatting up her favorite Bravo-lebrities. Watch What Happens Live host Andy Cohen has revealed to Entertainment Weekly that he has been exchanging emails with the incarcerated reality star!
"She seems like she is okay," Cohen said. "She definitely has not lost her sense of humor which I really admire. She's really funny in her emails."
Article continues below advertisement
But unlike the old days, when inmates only had a pen and paper to communicate with friends, inmates can now use email to send their letters. "There's a special prison email system," Cohen explained. "She has to request you. You get a request saying, 'There is a prisoner requesting that you join up to this system.' Then you have to fill out all this stuff, your social security, all this information. Then you get approved by the system and then once you're approved, you have to log on and then you can email this person."
While Bravo reps have declined to comment on whether Teresa will be re-joining the cast of Real Housewives Of New Jersey after she finishes serving her 15 month sentence, RadarOnline.com has revealed that she will in fact be back-- and that Joe and the kids have already been seen taping with Bravo!
With Joe set to serve his prison sentence after hers, and amid exclusive reports by Radar that he has been cheating on her while she has been away, Teresa will no doubt have a lot to talk about in the upcoming season of RHONJ. Do you look forward to seeing her back on the show?