Teresa Giudice Enlists Friends To Search For A Post-Prison Rental Home -- But Will Joe Get A Key?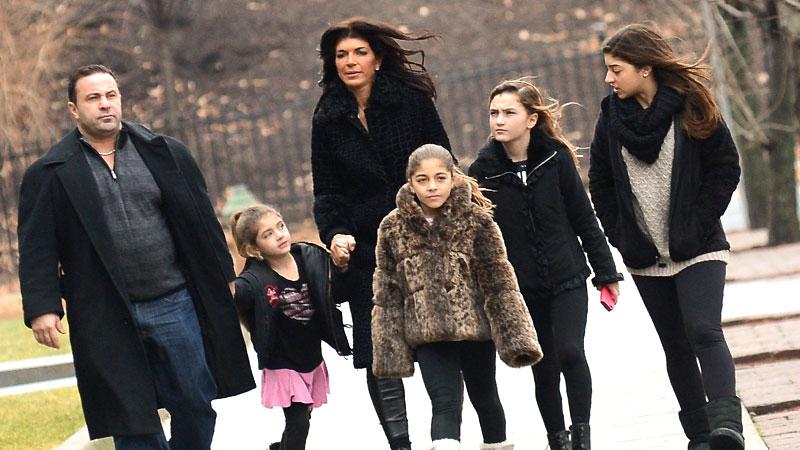 Teresa Giudice still have several months left on her prison term, but she's already making plans for her new life. RadarOnline.com has learned the felon is enlisting the help of family and friends to find a rental house where she and her daughters can live after being released from behind bars. But will she let her husband, Joe, live there before he begins his own prison sentence?
The Montville, New Jersey, mansion Teresa and Joe own is currently in foreclosure proceedings. According to the source, "Even if Teresa could pay off the outstanding loan, the house is falling apart. It's an endless money pit of problems."
Article continues below advertisement
And so, said the source, "Family and friends have begun looking for a rental house and Teresa is insisting on at least five bedrooms. She doesn't want their kids," Gia, 14, Gabriella, 10, Milania, 9, and Audriana, 5, "to share a bedroom."
But despite all of the reports about Joe stepping out on her while she is behind bars, the source said Teresa plans to welcome him back with open arms.
The source explained, "Teresa will begin filming the Real Housewives of New Jersey as soon as she is released, and she wants the world to believe that their family life is perfect."
The custom mansion, which boasts six bedrooms, six bathrooms, and more than 10,000 square feet, has been prominently featured on the Real Housewives of New Jersey over the years.
Recent efforts to find a rental failed when Teresa famously said she couldn't live in a "used" house. But with all of their financial troubles, including guilty pleas for felony tax evasion and the fines they must pay the government, the mortgage on their primary residence is a back-breaking expense.
Article continues below advertisement
Meanwhile, Joe has been caught out on the town with several other women during her prison stint.
Most recently, on August 5, Joe didn't seem to care who was watching as he cozied up to another woman for drinks on the rooftop bar of Daddy O on Long Beach Island, New Jersey.
"It was him and a woman next to him, and another man and woman across from them," an eyewitness told RadarOnline.com of his young brunette companion.
With a martini parked in front of him, Joe did not indulge in PDA, but he was clearly having a ball.
Teresa will "be relieved when he goes to prison because she won't have to make excuses for his behavior any longer," the source said.