'Knock-Down Fights,' Hard Partying, Shady Boys' Trips: Secrets Inside Snooki & Alleged Cheater Jionni's Dysfunctional Marriage— Will They Split?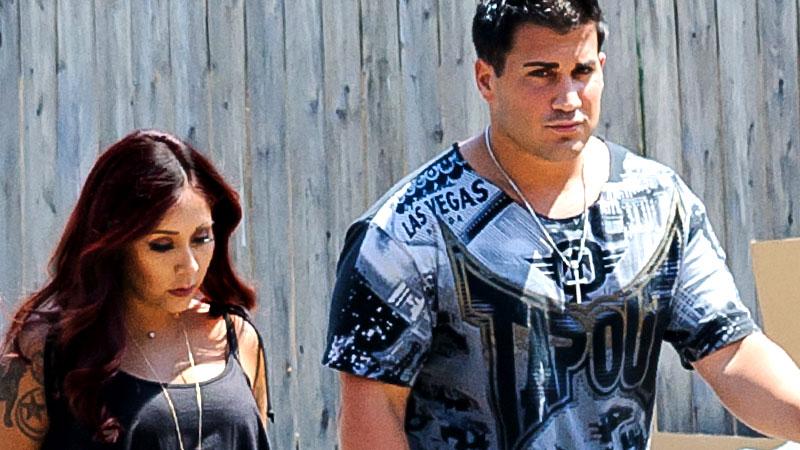 These days, former Jersey Shore spitfire Nicole "Snooki" Polizzi seems like she has a happy suburban life as a wife and mom.
But following reports that the 27-year-old party girl turned fashion designer's husband, Jionni Lavalle, was a member of scandalous affair-search website Ashley Madison, an insider tells Okmagazine.com that the marriage has been on the rocks for a long time.
"They have had some knock-down, drag-out fights," a source reveals. "Usually Jionni is the one starting the arguments."
Article continues below advertisement
According to the insider, the couple fought over their shared love of clubbing and drinking— and subsequent questionable behavior.
"They fought over her partying and his partying," the source adds.
On Tuesday, Snooki insisted rumors of Lavalle cheating "couldn't be any further from the truth" in an emotional Instagram post.
But the source was insistent.
"I think where there is smoke there is fire," the source confesses. "He is frequently away on golf trips with his boys, and they go out and party."
The father of Polizzi's kids Lorenzo, 3, and Giovanna, nearly 1, has been accused of infidelity attempts in the past.
In January, In Touch reported that the ATM-owner, 28, tried to pick up a girl while partying with guy friends in Fort Lauderdale, Florida.
"He told me he wanted to have a girl down here on the side that he could visit," Alex Waldman told the magazine.
"It's not the first time I've heard something like this," a source told RadarOnline.com at the time.