Drama On 'The View!' Sherri Shepherd Disses Kelly Osbourne On Twitter Over Racist Remarks: 'Girl What Did You Just Say!'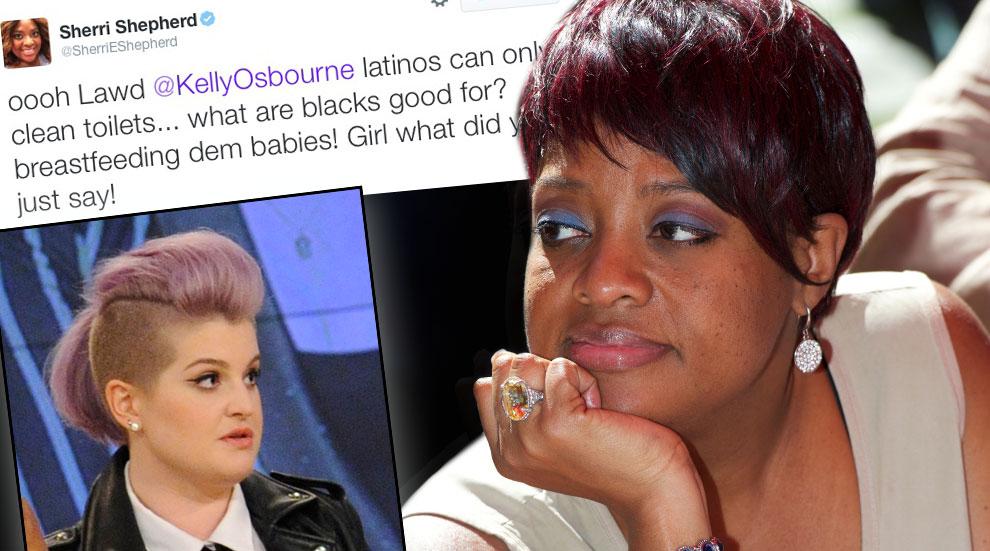 Kelly Osbourne is at the center of yet another TV scandal.
The View cohost slipped up when discussing Donald Trump's opinion U.S. immigration, saying: "If you kick every Latino out of this country, then who is going to be cleaning your toilets, Donald Trump?"
Her View costars were stunned by Osbourne's slur, taking great pains to get passed it in their discussion.
"There's more jobs than that he can use them for," newcomer Raven-Symone reminded the Brit.
Article continues below advertisement
Meanwhile, TV personality Sherri Shepherd didn't take kindly to Osbourne's racial assumption, taking to Twitter to blast her.
"Oooh Lawd @KellyOsbourne latinos can only clean toilets," she said. "What are blacks good for? breastfeeding dem babies! Girl what did you just say!"
Later, the 48-year-old opted to go easy on her 30-year-old opponent, remembering that mistakes happen.
"Cutting @KellyOsbourne a little slack, bc I've done it myself ... sometimes isht comes out of your mouth live that you didn't mean to say," she said, adding later, "It's okay @KellyOsbourne ... @GiulianaRancic did same ... sometimes we say dumb stuff & regret it but hope we have friends who understand."
Of course, Giuliana Rancic won't be caught dead commenting on her big mea culpa moment concerning Disney star Zendaya Coleman's hair. She'll most likely be sitting this one out.
But for Osbourne, the damage was already done, unfortunately. A number of celebrities turned her Freudian slip into a joke, including Enrique Hernandez.
Of course, the ladies of the View were later gracious to Osbourne, giving her a pass for her mistake.
Do you think Kelly Osbourne took it too far or does she deserve some slack?