Meghan Edmonds 'Shocked' At Vicki Gunvalson's Outburst Over Brooks Ayers Cancer Drama –– Suggests Co-Star Has 'A Personality Flaw'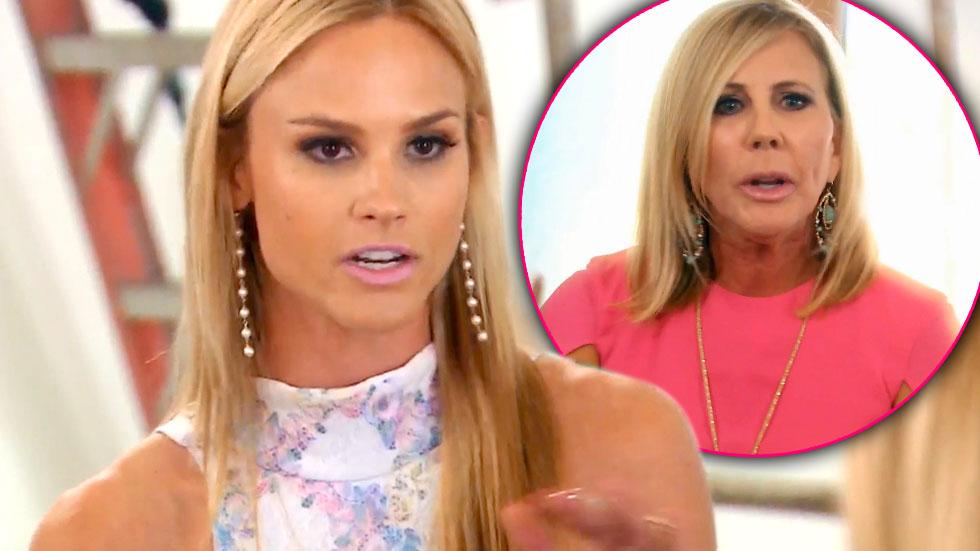 Meghan Edmonds said she was "shocked" by Vicki Gunvalson's outburst towards her on Monday's Real Housewives of Orange County.
As RadarOnline.com previously reported, the lingering tension between the reality stars exploded after Meghan was skeptical in her speculation about the treatment Vicki's then-love Brooks Ayers was undergoing for cancer.
An enraged Vicki replied that she would "take Meghan down," characterizing her younger castmate as "a little girl" who needs "to go away."
Article continues below advertisement
Watch the video on RadarOnline.com
Meghan said in a blog late Monday that she was "shocked at Vicki's response to me when I brought up the psychic and Brooks' treatment," adding that she couldn't get a word in "edgewise" as she was being dressed down by her elder.
Meghan, throwing gas on the flames, wondered if Vicki's attacks are "simply a personality flaw and/or a defense mechanism to hide a deeper issue?"
Meghan -- recently impacted by death of her husband Jim's ex wife, Lee Ann Edmonds Horton, from colon cancer -- explained that her motives were pure, as she acted on her "all-consuming thirst" to help those suffering from cancer cope and battle it.
"I've never experienced the kind of hatred that Vicki spews at me regarding a devastating illness," Meghan said. "Any single one of you reading this blog who has been directly affected by cancer (either through a close friend, yourself, or a caregiver) knows that it consumes you."
Article continues below advertisement
Meghan added that in researching a treatment that was an "alternative to chemo that Brooks was trying called 'resveratrol,'" she learned that "resveratrol doesn't cure cancer," which increased her doubts about Brooks.
"Add another strange tidbit to the pile of doubt surrounding Brooks' story," Meghan wrote.
Friend of the housewives Lizzie Rovsek took up for Vicki in her own blog, writing "I do not think Meghan is genuinely concerned about Brooks' cancer," but more concerned with aggravating Vicki.
"Does Meghan even know Brooks?" she wrote. "It has to be one of the worst accusations to hear about your loved one who is battling cancer."
Insiders previously told RadarOnline.com that Vicki had pointed to Meghan as a cause in her recent split with Ayers.
"Meghan thought that she could come in and bring drama" the source said, calling her "full of sh*t and obviously uneducated on the subject."
The Real Housewives of Orange County airs Mondays at 9/8c on Bravo.