I'm Not A Bad Mom! Leah Messer DENIES Feeding Children Dinner At Midnight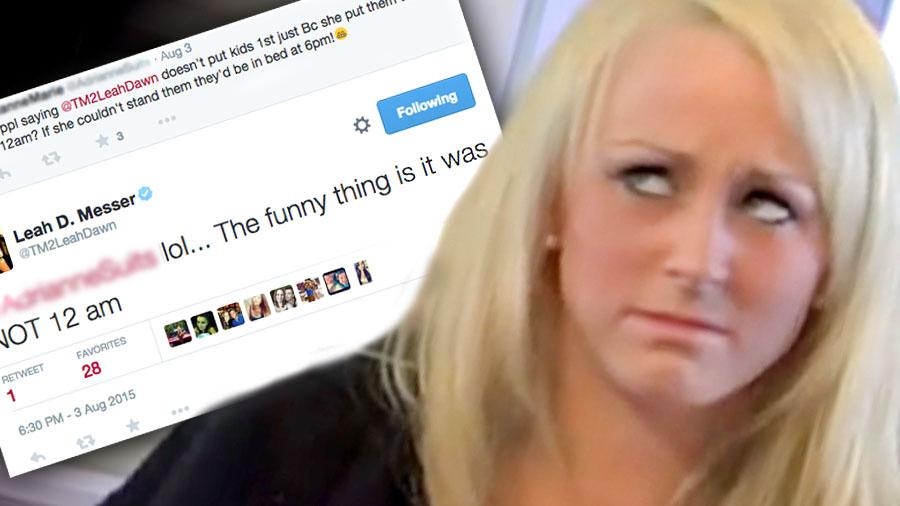 Leah Messer wants her fans and critics to know— she did NOT feed her children dinner at midnight!
After the Teen Mom 2 star, 23, was seen on last week's episode preparing canned raviolis for her 5-year-old twins Ali and Aleeah hours past their bedtime, she took to Twitter to defend her actions.
"The funny thing is it was NOT 12 am," she corrected a follower who commented on the scene this week.
But on the show, the clock clearly read between 11 and 12 when the kids sat down to eat at the table.
Article continues below advertisement
Messer may be implying that MTV has been up to some creative editing this season.
The two-time divorcee did not respond to fans' comments on clips of her spanking Aleeah until she cried and fighting
with then-husband Jeremy Calvert, 27, in front of the children.
Since filming, Messer has undergone some major changes. She completed a month-long stint in rehab for what she calls an anxiety and depression problem— but what sources tell RadarOnline.com was a prescription painkiller habit.
As RadarOnline.com exclusively reported, she finalized her divorce from Calvert in June, and is now living with her new man, personal trainer T.R. Dues, 32.
Is Leah just misunderstood? Sound off in the comments.