Kris In Kontrol Again! Kim Kardashian's Momager Jenner Pressured Her To Post Nude Pregnant Selfie -- Secret Struggle Revealed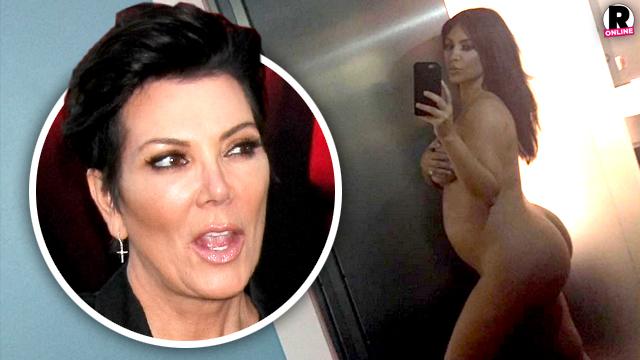 Kim Kardashian's scandalous nude pregnant selfie was another scheme cooked up by her momager Kris Jenner RadarOnline.com has exclusively learned.
"Kris was the one who told Kim to take that photo," a source revealed.
"She pressured Kim to bare it all, AGAIN. And Kim really didn't want to do it. But Kris forced her."
Kardashian's controlling mother reportedly has been the force behind her hyper-sexualized career from the beginning, and the source told RadarOnline.com she still calls the shots.
Article continues below advertisement
"Kris told Kim that she needed to get ahead of all of the negative reports," the source claimed. "Things like she's faking the pregnancy, that her baby bump is changing sizes, all of this is really getting to Kris and she wanted Kim to fight back."
The 34-year-old pregnant reality star tried to pushed back against her mother insisting on nude shots, but according to the source she never says no to Jenner.
"Kris knows exactly what to say to Kim to make her do whatever she wants," the source said. "It's not a guilt trip but she knows which buttons to push and she told Kim that she needed to put her body out there. She told her to be proud of it and show it off, because she knows that everyone wants to see Kim naked all the time."
Kardashian, who bragged "NoFilter #NoPhotoShop and #GoodLighting on the picture, acquiesced to her mother's demands.
Article continues below advertisement
"Kim trusts Kris to help her with her career and so she did what she said," the source explained. "She was reluctant but Kris was insisting that she do something outrageous to fight back against the rumors."
The source told RadarOnline.com that Jenner is "very aware of all the bad press she and the girls are getting lately and she wanted to stop this story before it grew too big. She is unhappy with all of the 'faking' stories that are coming out."
What do you think about Kim's naked photo? Sound off in the comments below.