Kardashians Lash Out! Angry Kim, Khloe AND Kris Confront Caitlyn On Camera: 'You Got The Fame, But You're Losing Your Family!'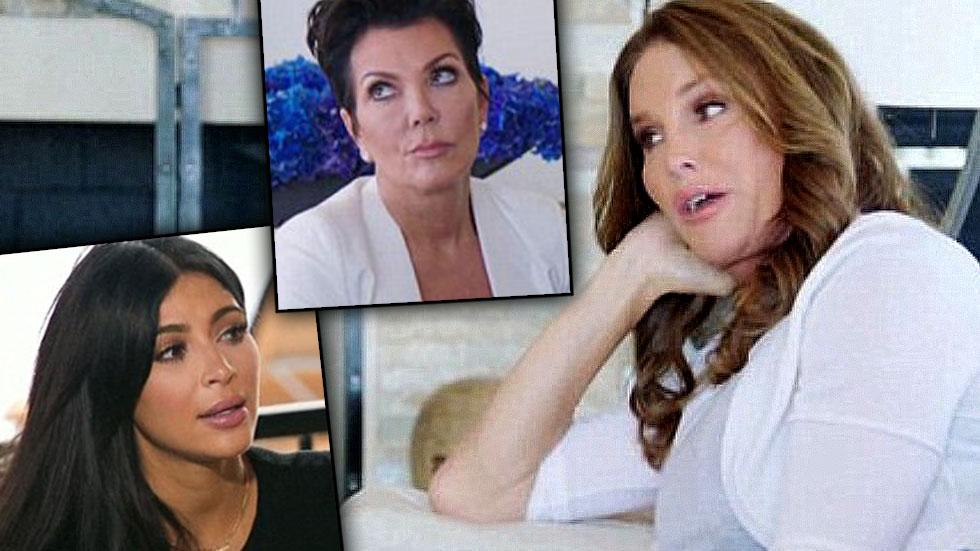 Caitlyn Jenner may feel confident and free in her new identity— but the people closest to her are not so happy with the bombshell transition and accompanying chaos.
On the latest episode of I Am Cait, the 65-year-old trans woman sits down with her stepdaughters Kim, 34, and Khloe, 31— and in a preview clip, her ex-wife Kris, 59— to bravely listen to their anger and resentment.
First, Kim confronts Caitlyn for comments she made about Kris in her widely publicized Vanity Fair article.
Article continues below advertisement
As RadarOnline.com has reported, the Olympic legend slammed her former spouse in the magazine, claiming the momager wasn't "tolerant" of her big change.
"You're in trouble," Kim tells her in the star's Malibu mansion. "You still have a little Bruce in you. I thought Caitlyn would be a little kinder."
When addressing Caitlyn's very public statement that the former power couple divorced due to Kris' inability to accept her transition, the normally soft-spoken Kim explodes.
"She's not a lesbian! That's not fair to ask!" she argues.
"She wanted me out of the house. 'You're outta here'…Don't come back and be so emotional over the breakup," Caitlyn responds.
"You can't fault her," Kim calmly explains. "She obviously really loved you and cherished your 25 years together as a family."
Though the conversation ends in an agreement, Kim adds a hurtful dig.
"You got the fame, but you're losing your family."
Article continues below advertisement
Later in the episode, a nervous Caitlyn visits the notoriously outspoken Khloe's home to discuss some "tough" text messages she sent following the Vanity Fair article's publication.
After small talk about eyelash extensions and Caitlyn's new Versace purse (gifted by Donatella herself), Khloe lays into her former stepfather for her cold words about Kris.
"Let's focus on the actual cause here and not drag my mom through the mud," she snaps. "I would think you would come from a place of more compassion."
Caitlyn quickly defends herself.
"If she would have been okay with me, just living with it…Instead I constantly had to hide myself and wasn't able to talk about it," she replies. "Am I going to continue to hide? I'm sick of that!"
Though Khloe typically is on the attack in family battles, she backs off.
"At the end of the day, some things Cait will never understand, and I don't want to fight anymore," she tells the cameras.
Article continues below advertisement
Despite her longstanding feud with Kris, Caitlyn mentions she hopes her ex will call her to clear the air.
And it seems she gets her wish. In a preview clip for the upcoming episode, Caitlyn and Kris actually meet face to face for a discussion.
"You're sensitive and amazing to so many people," Kris says with tears in her eyes. "You're just not sensitive and amazing to the family you left behind."
When she's not facing the wrath of family members in the episode, Caitlyn manages to have a little fun with her gal pals, including hairstylist friend Courtney Nanson and her new BFF, trans actress Candis Cayne, 43.
As Caitlyn prepares for a girls' "slumber party" with Cayne, she picks out a few outfits with help from Nanson.
While looking through her designer wardrobe, she pulls out a hot pink piece of lingerie with yellow lace.
In a shocking confession, she says it was a gift from Kris!
Of course, Caitlyn also manages to do good during the episode.
She and Cayne visit Transforming Families, a support group for transgender teens and their parents.
The women, along with fellow trans celebrity Chaz Bono, listen carefully to the adults and children discuss the difficulties of the transition process on the family.
"I know how these kids feel," Caitlyn tells the cameras. "I have been there."
Do you think Caitlyn will form a friendship with Kris? Sound off in the comments.