Exclusive
Show Must Go On! Inside John Stamos' Feud With The Olsen Twins Over 'Fuller House' – 'It's Not About The Money'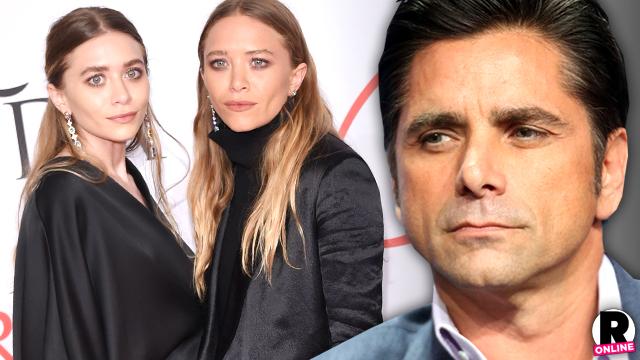 Everywhere you look… there's NO predictability!
Production is fully underway for the remake of the '90s hit classic sitcom Full House and RadarOnline.com has exclusively learned that there is some major drama going down – and the show hasn't even started airing yet!
According to an on-set source for the Netflix series, appropriately titled Fuller House, John Stamos may have to bite the bullet when it comes to the two people he loathes the most – Mary Kate and Ashley Olsen!
Article continues below advertisement
"John is starting to worry right now about the future of the show because production is not going as well as everyone had hoped it would," the insider says, adding, "It is just starting to feel hokey."
"It just does not have the same appeal that the original show had and they are struggling to find story lines that are interesting," the source adds.
As RadarOnline.com previously reported, the Olsen twins, who both played the role of Michelle Tanner on the original show, had refused to take part in the remake as they felt it was not in their best interests.
But now, because the production is facing dilemmas, the source tells RadarOnline.com, "John and the rest of the cast are going to do what they were so against doing and approach the Olsen twins again with another offer."
And it looks like their offer might be accepted.
"Mary Kate and Ashley had a change of heart about a month ago because of the backlash that they got from fans and now they are considering taking part after all."
Article continues below advertisement
For the twins, "it is not about the money," says a source. "It is about their image."
"Although a few of the cast members can't really stand them, right now everyone is more concerned with the show than their own personal feelings about Mary Kate and Ashley."
The original sitcom, starring Bob Saget as Danny Tanner, was about a young father that enlists the help of his brother-in-law and his childhood friend to help him raise his three young children after the sudden death of his wife.
The remake of the show, which also will star Dave Coulier, Lori Loughlin, Candace Cameron-Bure and Jodie Sweetin, will focus on the eldest daughter, Bure's D.J. Tanner, and her life as a single mom.
Do you think that Fuller House needs the Olsen twins to survive? Tell us your thoughts in the comments below.