Hulk Hogan Begs For Forgiveness Over Shocking 'N-Word' Controversy –– Claims 'There's Not A Racist Bone In My Body'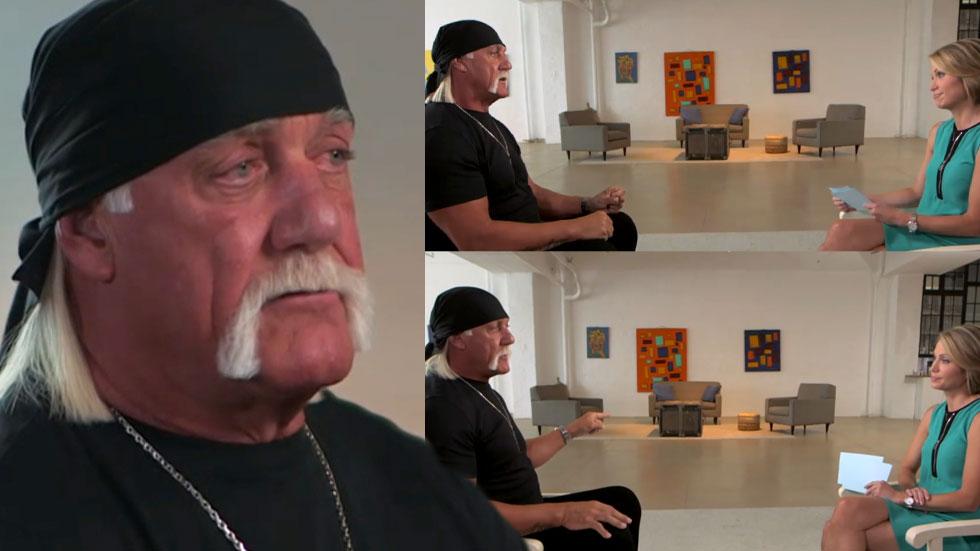 Hulk Hogan Monday, in his first interview since RadarOnline.com and The National ENQUIRER's world exclusive report of his racist rants, asked his fans to "please forgive me."
"I think if you look at the whole picture of who Hulk Hogan is," he said, "you can see over all the years that there's not a racist bone in my body.
"I'm a nice guy: it's not, you know, not the Hulk Hogan that rips a shirt off and bang, bang, bang, slams giants, you know? I'm Terry Bollea."
Article continues below advertisement
Watch the video on RadarOnline.com
The 62-year-old grappler, chatting with Amy Robach, stressed he's no bigot, claiming that at the time the racial slurs involving the N-Word were recorded in 2006-2007, he was in a suicidal state-of-mind as his marriage was crumbling.
"I was to the point where I wanted to kill myself, you know?" a teary Hogan said of the pillow talk discussion with one-time lover Heather Clem, the ex-wife of the wrestler's estranged pal, radio shock jock Bubba The Love Sponge. "I was completely broken and destroyed and said, 'What's the easiest way out of this?' I mean, I was lost."
Watch the video on RadarOnline.com
The former Wrestlemania headliner said the offensive words came as he was "upset over a situation that happened" involving his daughter Brooke and her boyfriend at the time (who is black).
Hogan said his own background came into play, when asked point blank by Robach, "Are you a racist?"
The regretful muscleman explained, "People need to realize that you inherit things from your environment.
Article continues below advertisement
"And where I grew up was south Tampa, Port Tampa, and it was a really rough neighborhood, very low income; and all my friends, we greeted each other saying that word," he said, noting that the N-word "was just thrown around like it was nothing."
He said that it's "very fair" to assume he became comfortable with the word as a result of "the culture and the environment" in his Florida upbringing.
"The environment I grew up in in south Tampa and all my white friends, all my black friends, to hear the word on a daily basis when they'd greet me in the morning, that's what they'd say to me: 'Good morning,' so-and-so.'"
"I'm not a racist but I never should have said what I said; it was wrong and I'm embarrassed by it."
Hogan, who wore red-and-yellow for decades as wrestling's top attraction, said his WWE firing was "devastating," as "everything I've done my whole career and my whole life was like it never happened.
"It just destroyed me ... I mean, I love this business. I mean, it's been my life," he said. "I've given my life to this business. I've destroyed my body because I love doing this so much."
Article continues below advertisement
After pleading to his fans, "Please forgive me, please forgive me," Hogan said he believes he deserves a second chance.
"Just because a person makes a mistake, just don't throw them away. You don't throw good people away. I refuse to believe that one thing that I did, which is not who I am, is the beginning of my demise."
He said that the remark shouldn't define his life or legacy.
"If everybody at their lowest point was judged on one thing they said and let's just say in high school, you may have said one bad thing and all of a sudden, your whole career was wiped out today because of something you said 10 or 20 years ago, it'd be a sad world," he said. "People get better every day. People get better."
Hogan pointed to "double standards" regarding the use of the word, as he thinks it should be erased, period.
"You just can't use the word: Let's take it out of the dictionary, let's not use it in rap songs or movies. I mean, if it's unacceptable, it's unacceptable."