On Her Knees: Former NFL Cheerleader Collapses At Sentencing For Raping 15-Year-Old-Boy -- Her Son's Friend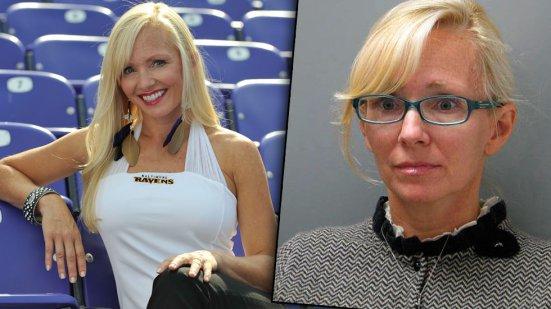 Once upon a time, Molly Shattuck was a vibrant NFL cheerleader and coach for the Baltimore Ravens' cheerleading squad, but now, she is a convicted sex offender who will be paying the price for having sexual relations with a 15-year-old boy.
Shattuck, a 48-year-old divorcee, "collapsed to her knees" as she listened to her sentence in a Delaware court, Inside Edition reports. The mother of three's punishment after pleading guilty to fourth degree rape? Every weekend for the next two years, she must report to a "probation center," and her name will be added to the sex offender registry.
Article continues below advertisement
Shattuck began cheerleading for the Baltimore Ravens in 2005 at age 38. She performed for two years, and coached part-time for over six, but her new probation schedule will likely interfere with any game-day plans she may have had for the 2015 season. "I take full responsibility for what I did. I never, ever, ever intended, obviously, to hurt anybody," she insisted. "I will spend the rest of my life making this right."
The victim was a teen that went to school with her son in Maryland. Shattuck reportedly began communicating with the boy over Instagram. Then, her son allegedly gave the boy his mother's phone number, saying, "You should text my mom, she is obsessed with you."
The inappropriate sexual contact occurred over Labor Day weekend at Shattuck's vacation rental home. Shattuck was also accused of providing alcohol to three underage boys.
The parents of the victim say that the verdict cannot bring back their son's stolen innocence. "At the end of the day, there's nothing that we can do to take this pain away from him," they said.
Do you think that two years probation is an appropriate punishment for the crime? Let us know in the comments section below.