Intruder Nightmare! 'Little People, Big World' Star Amy Roloff Claims Man Trespassed Onto Property & Attacked Her –– Secret Lawsuit Exposed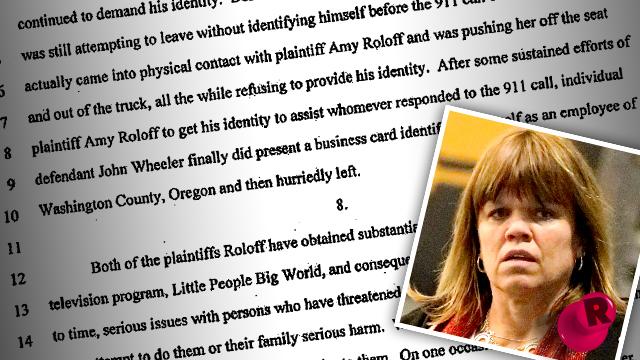 Little people, big lawsuit.
The Roloff family, who found fame on TLC series Little People, Big World, seem to be drama-free onscreen.
But parents Amy and Matt secretly sued Oregon's Washington County and two if its employees after the mother of four allegedly endured a terrifying encounter with a building services inspector that she claims turned physical.
According to Amy, inspector John Wheeler snuck onto the family's Hillsboro, Oregon, farm on July 16, 2010, despite no trespassing signs and a call box to request permission from the couple.
Article continues below advertisement
"Defendant Wheeler intentionally, and without any legal justification, absolutely ignored those signs and locked gates and the rights of the plaintiffs Roloff and surreptitiously crawled under or climbed over a fence…and proceeded onto the property without permission," Oregon Circuit Court documents state.
When Amy noticed Wheeler taking photos of her property, she allegedly approached him— but the inspector "refused to identity either himself or his purpose and refused to hand over the pictures," official papers state. "He claimed falsely that he was properly there because he knew her husband."
The reality star called 911, and Wheeler ran back to his truck, she claims.
When Amy followed him, she says, the alleged intruder pushed her out of the vehicle.
"The actions of the individual Wheeler…caused plaintiff Amy Roloff to suffer severe emotional distress, fright and upset," the documents read.
The couple sought $160,000 in claims for relief and attorney's fees.
Wheeler claimed he was merely responding to a complaint about the property, and denied touching Amy. He said he was not trespassing and "building inspectors do not always provide notice to people when they come out to the property," the defendants' attorney responded.
A United States District Court judge eventually dismissed the case with prejudice in 2012, siding with the defendants.
Amy and Matt filed to appeal the ruling, though the outcome is unclear.
The couple has since split, filing for divorce in June 2015 after a year of separation.