'I Don't Want To Believe This': Vicki Gunvalson Receives Tragic News Of Her Mother's Death –– See Her Emotional Reaction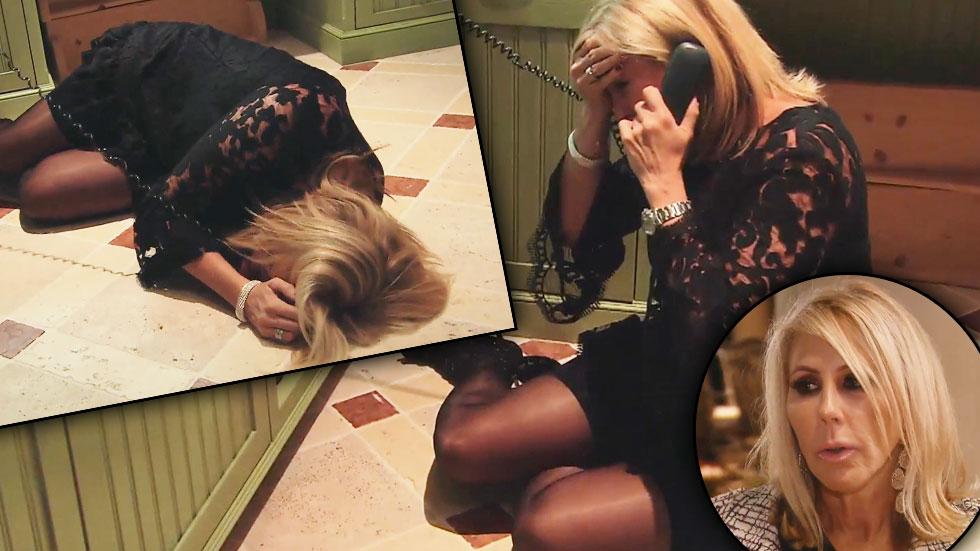 Vicki Gunvalson received tragic news that her mother died on Monday's episode of the Real Housewives of Orange County.
In the emotional episode, the ladies of the OC are reminded that tragedy could strike at any moment -- and they better be ready.
Before any seriousness ensues, newcomer Meghan King Edmonds discovers that getting her family ready for a move can create tension in her marriage, adding to the friction with frenemy Shannon Beador.
Article continues below advertisement
Unexpectedly, Shannon gives Meghan a call, inviting her over for a game night with the gals.
"I'm honestly surprised to be getting a phone call from you Shannon," Meghan tells her over the phone, adding that she'll need proof from Shannon so they can move forward peacefully.
"Are you kidding me? I don't need to prove myself to a 30-year-old!" Shannon scoffs in confessional.
A little while later, Shannon calls Meghan a second time, standing by her invitation but with a caveat for the much-younger housewife: "I'm offering you an olive branch to you, I don't need to prove anything."
But Shannon has her own issues to deal with. When husband David explains that he saw "that woman on the beach," she assumes it's the woman he had an affair with last year.
Panicked, Shannon confides in a friend, confessing that her marriage will only survive if they can work through the hurt of his transgressions.
"In order for our relationship to succeed at this point, there needs to be complete honesty," she says.
Article continues below advertisement
Meanwhile, Tamra Judge and Vicki Gunvalson revive their fun-loving friendship.
"Even though Vicki and I have had out ups and downs, we can always have fun together," Tamra recalls in confessional.
With boyfriend Brooks battling cancer and a night she'll never forget looming overhead, Vicki can use all the support she can get.
In Heather Dubrow's neck of the woods, the reality star attempts to ease the family's frustrations over husband Terry's busy schedule.
In the end, she only manages to spend some time with her surgeon hubby by appearing on his hit show, Botched -- as a patient!
"I have to get things cut off to have a date night with you," she jokes in Terry's office.
Luckily, Heather takes care of a date and a minor procedure all in time for Shannon's party.
But during the festivities, Vicki, the only cast member remaining on the show from season one, receives the worst phone call of her life – news that her beloved mother has passed away.
Article continues below advertisement
The reality star falls to the ground, weeping as she clutches the phone.
"I can't do it, I don't want to believe this," Vicki sobs into the phone. "How could she die?"
Watch the Video on RadarOnline:
As Radar previously reported, Bravo aired a commercial featuring the heartbreaking moment over Mother's Day weekend, which upset Gunvalson to the point of writing on Twitter that it was "the most terrible thing to have to re-live again … especially on Mother's Day."
Fortunately for Vicki, her RHOC cast mates are there to comfort her immediately, calling Brooks to pick her up and offering support through the tragedy.
Later that night, Gunvalson wrote a heartfelt tribute to her mother: "Tonight I received a phone call that is every person's worst nightmare. My amazing, beautiful and strong mother passed on and is now with the love of her life my father in heaven. I am who I am today, because of her. An amazing cook, organized, bold personality and had a sense of style and fashion that I adored. I miss you so much mommy! My life will never be the same without you to give me advice and your wisdom. You were so healthy and so vibrant and so beautiful. I still need you. I love you MOM."
https://instagram.com/p/ytg2J-rZCp/?taken-by=vickigunvalson
"I wasn't ready to stop learning from my mom," Vicki shares in confessional. "I'll miss my mom's spunk, she had so much love for life."
The Real Housewives of Orange County airs Mondays at 9/8c on Bravo.