Dad From Hell! 'Teen Mom' Chelsea Houska Fears Baby Daddy Adam Lind Is 'Ruining' Daughter Aubree: 'He's Never Going To Change'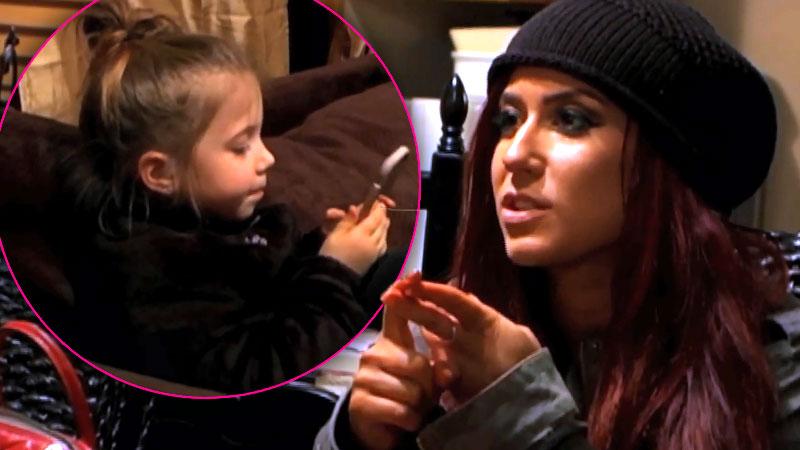 Chelsea's got the bad baby daddy blues.
In Okmagazine.com's exclusive clip from tonight's episode of Teen Mom 2, Houska opens up about her co-parenting nightmare with ex Adam Lind.
The South Dakota cosmetologist, 23, her beloved father Randy, and 5-year-old daughter Aubree stop by the visitation center where a judge could force frequent jailbird Lind to spend time with their little girl.
"When I walked in, I got the vibe that it was like a negative place and it's kind of sad," Houska confides in her father. "It's a place where kids have to go because their parents are crappy."
Article continues below advertisement
"It makes my heart hurt and makes me kind of emotional that I'm even here right now."
On a previous episode of the MTV hit, the doting mom learned her construction worker ex, 25, hadn't been following the custody agreements set by the court.
Lind, who was arrested for domestic stalking late last year (the charges were later dropped) and has three DUIs on his lengthy criminal record, had been hanging out with Aubree unsupervised by his parents.
Despite his apparent disregard for the law, Lind filed for more custody of Aubree— which Houska was determined to fight.
Later on in the video, she expresses her worst fear: That troublemaker Lind will hurt Aubree's development and emotional well-being.
""He's never going to change. Even if he does change, I'll never trust him. I just want to do a good job and raise her right and for her to end up good and happy and no problems," she explains. "I don't want anything to be ruining any part of her. And he is."
"Like I can try to show her the good side as much as possible, but that's still half of her."
Fortunately, as Radar exclusively reported in March, Lind lost his case and Houska kept full custody of Aubree. Her ex continues to have visits with the little girl in his parents' home every other weekend.
Watch Teen Mom 2 tonight on MTV at 10 pm est, but first watch the preview clip below.