Lord Help Us! Scott Disick SLAMMED As Bad Dad After Announcing Vegas Party Event, See His Social Media Shaming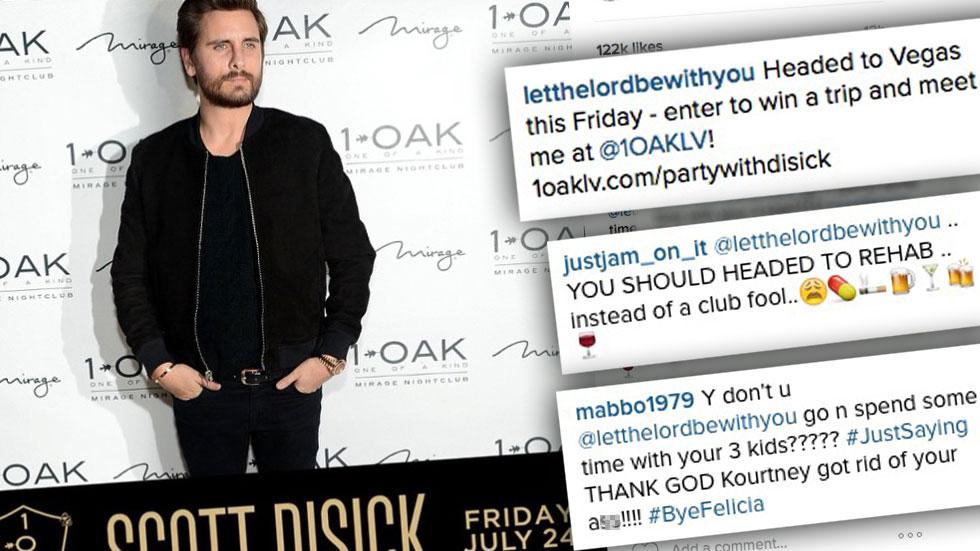 Scott Disick can't seem to keep away from his beloved club scene, especially now that he's single.
Despite constant criticism of his volatile lifestyle, the reality star announced via Instagram on Tuesday that he's hosting yet another Vegas event this Friday, July 24.
After a myriad of scantily clad girls were spotted arriving at Disick's bachelor pad in Beverly Hills last week and the father-of-three was photographed reaching new lows at an underage party, there's no telling what his next Vegas endeavor could include.
Article continues below advertisement
"Headed to Vegas this Friday - enter to win a trip and meet me at @1OAKLV," he captioned the announcement photo, which pictured the "lord" on the nightclub's red carpet.
https://instagram.com/p/5YKvFlO31G/?taken-by=letthelordbewithyou
But soon after posting, Disick received countless comments shaming him for promoting a party lifestyle so soon after his attempts at rehab and split from longtime girlfriend Kourtney Kardashian.
"Dude! Go be a father!! Get off the pills," commenter @reneeheather18 commented. "Leave those little whores alone that you've been partying with. And go make a man of yourself! You're a disgrace. Kourtney is better off with out you…and deserves better. but you still have to be a father.. Clean up your act dude."
Another user commended Kourtney for breaking up with her baby daddy: "Don't u go n spend some time with your 3 kids????? #JustSaying THANK GOD Kourtney got rid of your ass!!!! #ByeFelicia"
Disick also received plenty of rehab reminders from his followers: "YOU SHOULD HEADED TO REHAB .. instead of a club fool…"
Of course, in an attempt to avoid haters, Disick sweetened the deal, providing VIP perks to one lucky winner for the event.
Let's hope they don't get too lucky, knowing Scott.