Robin Williams' Daughter Zelda 'Taking A Break' From Social Media As Tragic Anniversary Approaches –– Says She's Better Off 'Away From The Opinions Or Sentiments Of Others'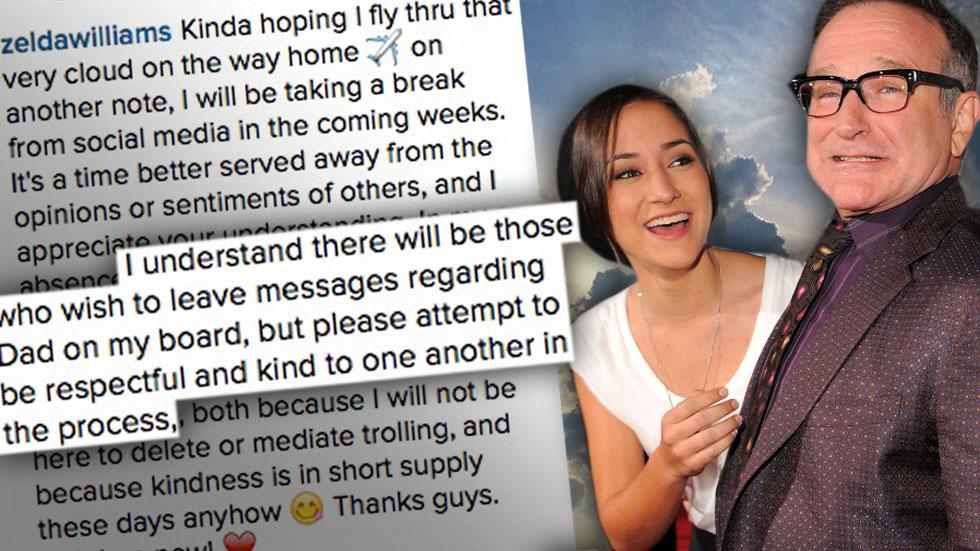 Facing a summer of sad milestones, Robin Williams' daughter Zelda told her Instagram and Twitter followers that she'll "be taking a break from social media."
The late Mrs. Doubtfire star would have turned 64 Tuesday, and three weeks from Wednesday will mark the one-year anniversary of his Aug. 11, 2014 suicide.
Zelda, 25, said that the time period of her social media absence will be "better served away from the opinions or sentiments of others," adding to her followers, "I appreciate your understanding."
Article continues below advertisement
https://instagram.com/p/5YCBJ0tqQh/?taken-by=zeldawilliams
Making reference to the obvious milestones, Zelda said she understood "there will be those who wish to leave messages regarding Dad on my board," and implored followers "to be respectful and kind to one another in the process, both because I will not be here to delete or mediate trolling, and because kindness is in short supply these days anyhow."
She also wrote on her Twitter account, "Taking a break for a bit. Don't burn the place down while I'm gone! ..."