Bros No More! Rob Kardashian Threatens To 'Knock Out' Scott Disick Over Treatment Of Sister Kourtney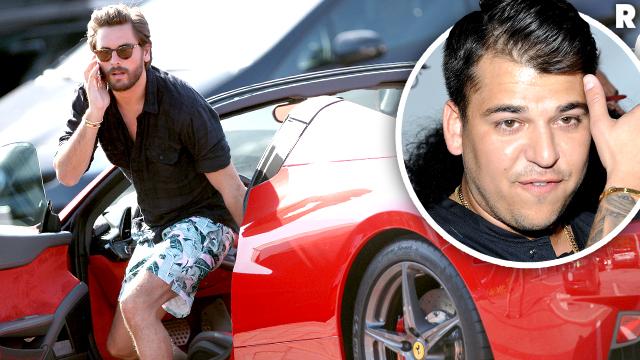 After growing up in a family full of women, Rob Kardashian found a pseudo-brother in Scott Disick. But after watching Disick's treatment of his big sister Kourtney, Rob has turned on the man he once called a "legend," RadarOnline.com has learned — and even wants to beat him up!
A source close to the 28-year-old male Kardashian tells Radar exclusively, "Rob is really hurt by this entire situation."
"Scott was one of the only people that Rob could really turn to that understood what he was going through," the insider says.
Article continues below advertisement
However, Rob's hurt is quickly turning to anger towards the father of Rob's nieces and nephews – Mason, 5, Penelope, 3 and his six-month old Reign.
"Rob just cannot believe that Scott did this to his sister and her family and he says he really wants to knock Scott the f*ck out."
"Scott has tried to reach out to Rob and get information out of him but Rob is not going to have any contact with him," says the source.
As Radar previously reported, the only son to the late Robert Kardashian, Sr., has isolated himself in the past few years from most of his family, with the exception of sisters Khloe, 32, and Kourtney, 36.
"Kourt and Khloe are really the only ones that Rob can stand and he loves Kourtney's kids so much," the source says.
"Rob would do anything for those kids and he is their only uncle."
Do you think that Rob Kardashian should beat up Scott Disick? Tell us your thoughts in the comments below.
Watch: Scott Disick Drunkenly Falls Over and Demands to Take Pills