'Pissed As Hell!' Rob Furious After Sister Kim Said He Would Be Skinny If He Did Meth -- Family Feud Continues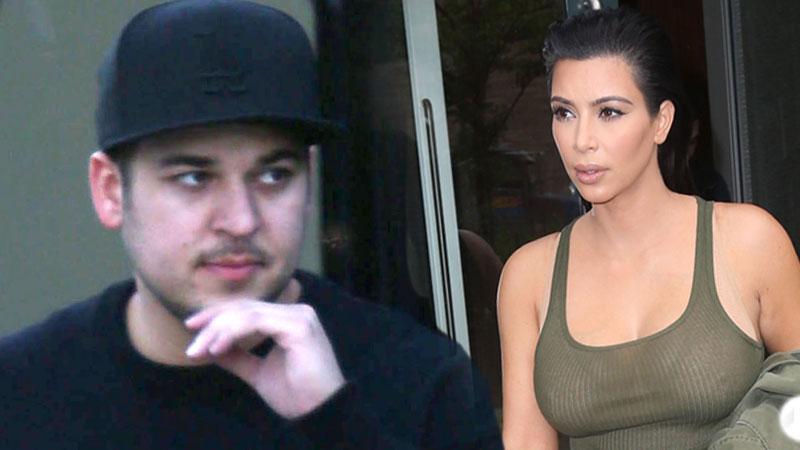 Rob Kardashian is reportedly livid after his sister Kim made some mean jokes about his weight and drug use in an interview!
In an interview with Rolling Stone, Kim said, "It's not that mysterious, what's happening with Rob... He has gained weight. He feels uncomfortable being on the show, and that's OK," adding, "Do I think he smokes weed, drinks beer, hangs out and plays video games with his friends all day long? Yes." When asked whether or not her brother did meth, she laughed and said, "No, no... Or he'd be skinny."
Article continues below advertisement
Although Kim may have meant them as a joke, Rob reportedly does not find the comments funny. "Rob and Kim had been cool again and were getting along," a source told Us Weekly. "Now he's furious at her again for her comments to Rolling Stone. He was been bitching her out on her phone. He's mad — pissed as hell."
Over the past couple of years, Rob's deepening depression has been well-documented on Keeping Up With The Kardashians, and lately, the once outgoing reality star has become reclusive amid his weight gain and rumored drug use. Now, this betrayal by Kim has given him another reason to create distance between him and his sister.
"Rob has blocked Kim on his phone," the source said. "He doesn't want to hear what she has to say. He says there's no excuse she could possibly have for saying that. He will not forgive her."
While sources close to the family claim that Kim means well, her tough love approach may not be a great match for her sensitive brother Rob. "It's not Kim's personality to nurture," another insider explained. "She loves him, but she's direct."