Mutiny! 'RHONJ' Cast Members Demanding Massive Pay Raises After Teresa Giudice Signed $1M Contract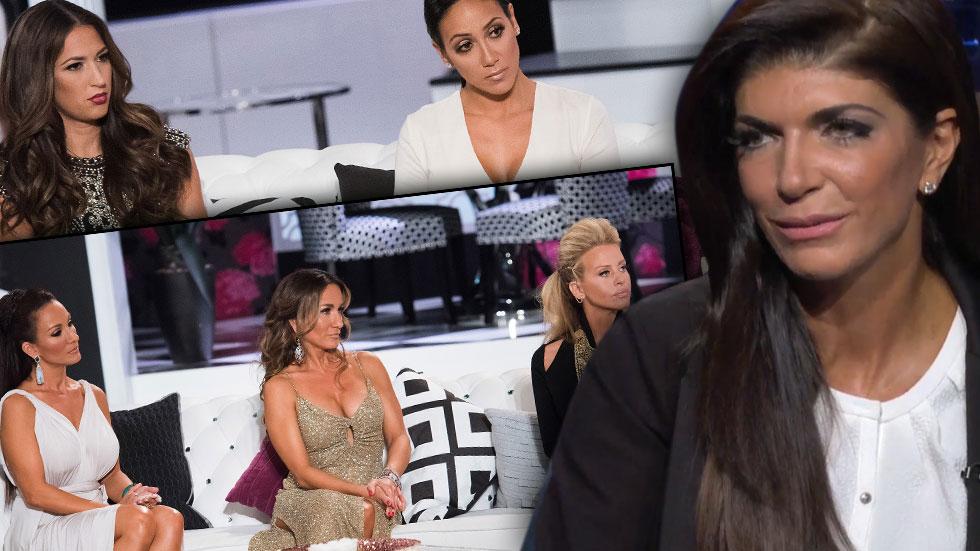 Teresa Giudice is still behind bars, but she's already stirring up drama with her Real Housewives of New Jersey castmates! RadarOnline.com has learned that Melissa Gorga and other members of the cast have banded together to demand huge raises from Bravo after they learned Giudice had signed a $1 million contract for the upcoming season.
The first ladies of New Jersey reality television are "disgusted that Teresa is getting such a huge paycheck, especially since she is a convicted felon!" an insider told Radar. "It sends a very bad message to their fans that crime does indeed pay."
Article continues below advertisement
So now, the source said, "Teresa's sister-in-law, Melissa is demanding a significant raise, and wants to be paid $1 million too. Dina Manzo is also seeking a bump in pay." And another source added, "Jacqueline wanted to be paid as much as Teresa too."
OTOS: Scandalous To The End! The 10 Biggest Controversies Of Teresa Giudice's Final Weeks Of Freedom
"And although producers want Carolyn Manzo to come back," the source said, "she is going to be holding out for a big offer, and she isn't ready to sign back up for all the crazy drama that comes with being on the show."
As for the other cast members from last season, twins Teresa Aprea and Nicole Napolitano, an insider said they've yet to be offered a contract -- and it seems unlikely they will be.
"The twins were boring, and didn't do anything to increase ratings for the show," the source said.
Meanwhile, Giudice desperately needs the paycheck. Still facing $214,588.90 in restitution payments from her bankruptcy and fraud case, she has agreed to have her wages garnished 25% to pay off the outstanding debt.
Article continues below advertisement
Court documents filed on July 6 and obtained by Radar state, "It is hereby AGREED that defendant, Teresa Giudice consents to the following: Sirens Media (producer of RHONJ), Garnishee, shall withhold 25% of any monies held on behalf of, or payable to Teresa Giudice, and pay the sum to the plaintiff."
Giudice is currently serving a fifteen month prison sentence, and is expected to be released in February.
Filming for the upcoming season of RHONJ is expected to begin in the fall.