Exclusive
Denied! Judge Rules Phil Spector's Life Sentence Will NOT Be Reversed — Why He'll Die In Prison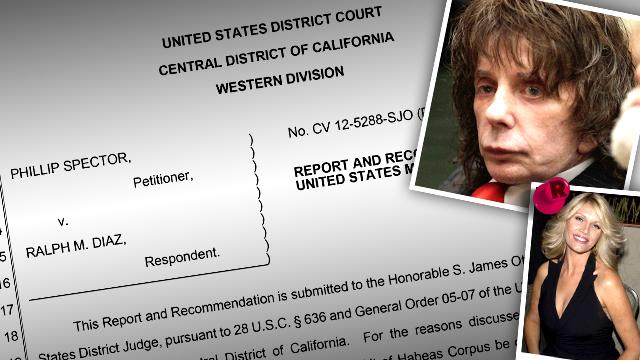 Phil Spector is not getting a second chance at life outside of prison walls. The famed producer's last attempt to have his second-degree murder conviction overturned was shot down, RadarOnline.com has exclusively learned, leaving the frail music producer to die in prison.
In 2009, Spector was found guilty of second-degree murder in the 2003 death of his girlfriend Lana Clarkson. The jury found that the he did in fact fatally shoot Clarkson, and he was sentenced to 19 years to life in state prison.
Article continues below advertisement
Spector appealed twice, but after those were denied, he filed a petition in Federal Court in 2012, saying his constitutional rights were violated by the judge who sentenced him, Ralph M. Diaz. Spector claimed that the decision to allow five women to testify that they were "threatened and held hostage by petitioner him at gunpoint" was against the law, as was the judge's decision to allow the prosecution to use the trial judge's comments on an expert's testimony.
In a failed legal maneuver, the music producer's legal team filed documents earlier this year and pleaded with the court to speed up the case. They explained that Spector is 74 and has been in custody since 2009. The court documents stated, "Mr. Spector is frail, and in ill health with an assortment of serious maladies. Any consideration the Court can provide in expediting its decision in this matter will be deeply appreciated.'"
However, the California Magistrate Judge Paul Abrams was unmoved by the emotional plea regarding Spector's heath and refused to expedite the case. The lengthy ruling explains that Spector failed to provide a single reason why his murder conviction should be overturned and Judge Abrams ultimately ruled that his sentence will remain intact.