Kylie Jenner Called Out For Cornrows By The Hunger Games Star –– Amandla Stenberg Says Star Has Failed To Use Fame To Help Black People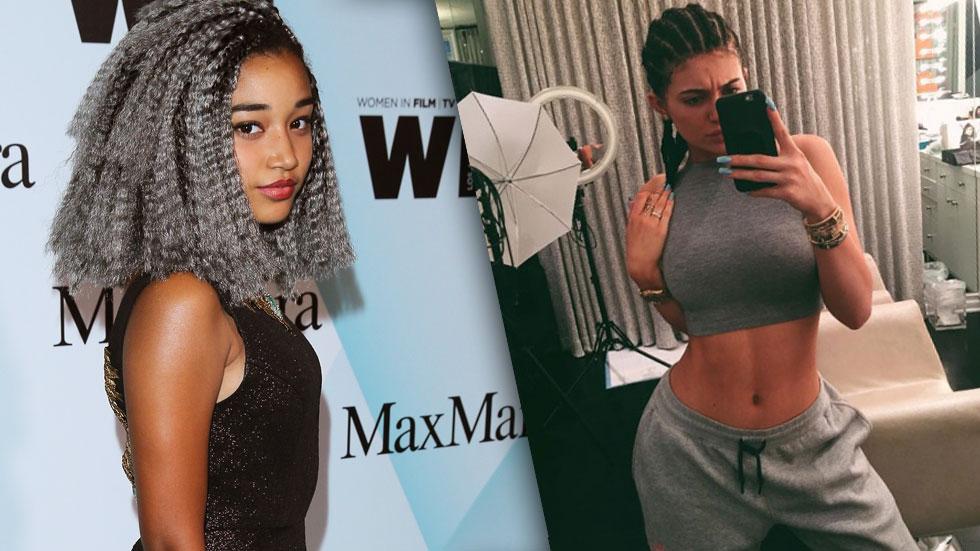 Kylie Jenner clashed with The Hunger Games actress Amandla Stenberg, over her culturally-fueled criticism of the reality star's cornrows 'do.
On Saturday, Caitlyn and Kris Jenner's youngest daughter posted an Instagram pic showing off the style, writing, "I woke up like disss."
https://instagram.com/p/5AWcLYHGty/
But the 17-year-old's post rubbed Stenberg the wrong way, as a screengrab of a comment she posted indicated she'd called out the reality star for embracing black styles and culture, without using her considerable fame to shine a light on key social issues.
Article continues below advertisement
"When u appropriate black features and culture but fail to use ur position of power to help black Americans by directing attention towards ur wigs instead of police brutality or racism #whitegirlsdoitbetter," Stenberg, 16, purportedly wrote.
https://instagram.com/p/5BaojXy2OM/?taken-by=theshaderoominc
The Keeping Up With The Kardashians star, in turn, responded, "Mad if I do...mad if I don't," pointing to Stenberg's friendship with Jaden Smith by writing, "Go hang w Jaden or something."
The celebrity exchange spurred similar debate in the comments section of the post.
It's not the first time Stenberg has touched on the topic, as in April, she released a clip called "Don't Cash Crop My Cornrows," noting stars such as Iggy Azalea and Miley Cyrus who she feels have "adopted black culture as a way of being edgy and gaining attention."