Exclusive
'Illegal' Transactions? Kirstie Alley Accused Of Shady Business Dealings In New Lawsuit — Paid Friend $450,000 Per Year, Documents Claim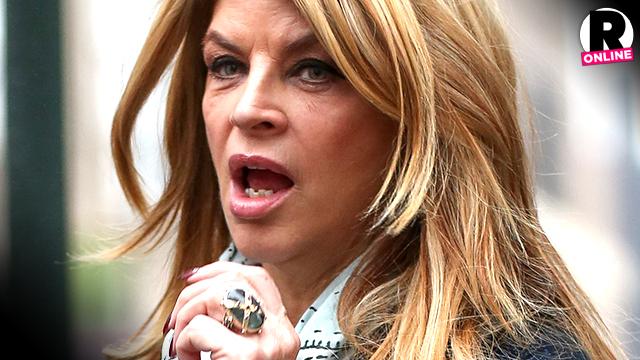 Kirstie Alley sold her diet company Organic Liaison to Jenny Craig in 2014, but decisions she and her former CEO made while running the show have landed them in a messy lawsuit. According to court documents obtained by RadarOnline.com, Alley and the company have been named as defendants in a lawsuit because of a six-figure payment they received as part of an alleged Ponzi scheme.
Organic Liaison and Alley were named in the case, along with the actresses' one-time insurance agent and former prominent Scientologist, Michelle Seward. Plaintiffs Jeffrey and Marguerite Stabile loaned approximately $500,000 of their life savings to Seward, but she "purportedly lost control of the funds."
Article continues below advertisement
In one of transaction, the documents claim, one of Seward's companies paid $400,000 to the Kirstie Alley Family Trust. The plaintiffs contend "that the funds the trust received are related to a premium financed life insurance transaction organized by the defendant and collateralized by $1,000,000 of investor funds."
They claim Alley "either actually knew, constructively knew, or should have known that the investment of $1 million, and the transfer of $400,000 into her trust … was illegal, fraudulent and otherwise improper, and at the expense of persons such as the plaintiffs and those similarly situated."
Court documents state that Alley admitted it happened "on this one occasion," but the plaintiff's attorney Rob Bastian disputes that.
A source close to Alley previously told Radar, "I can't go into details as the deposition is sealed and we are respecting the court's order. It sounds like the opposing side of the suit is grasping at straws by trying to leak false and/or misleading information in an attempt to win this in the press as they know they will lose in the courtroom."
Article continues below advertisement
At the same time, the documents reveal that Alley's assistant and CEO of Organic Liaison, Peggy Crawford, "was a minister and mission holder for the church of Scientology prior to" becoming the Organic Liaison CEO — a position that paid $450,000 per year, according to the documents.
However, in 2013, before Organic Liaison was sold to Jenny Craig, Alley asked Crawford to leave the company to "reduce expenses," the documents state.
Crawford testified at her deposition that her one-time best friend had fired her by e-mail, and claimed she didn't receive a severance package. She said she had received "units" of Organic Liaison, stating, "When I left Organic Liaison -- we-- I -- we ended with no - like part of what I gave back, gave to the company was my interest so I can..."
When asked about if there had been a "cooling off" in the friendship with Alley, Crawford said, "Well again, I don't know about anyone, but when somebody you know for decades, there are times when we're -- see each other very regularly and sometimes we don't. So, it's these are general that it's a little hard to be specific on what you're asking because it's also an opinion on how close a relationship - we know those are opinions depending on what you mean by close."
The trial is expected to begin in August, with Kirstie and Peggy expected to testify.