Exclusive
Bombshell Lawsuit! Kirstie Alley Sued Over Involvement In Alleged Business Scam — Was Her Diet Company A Ponzi Scheme?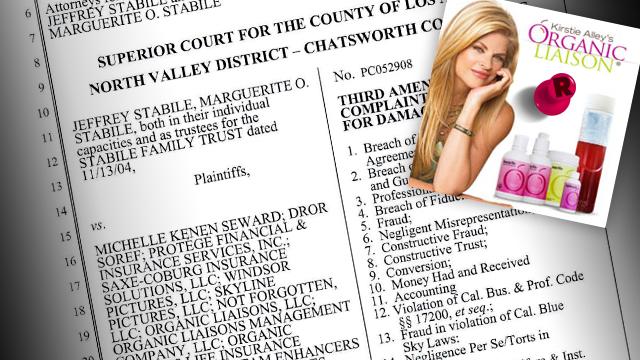 Kirstie Alley's controversial diet company, Organic Liaison, is under fire yet again! RadarOnline.com has learned that the actress and her company have been named as defendants in a lawsuit over an alleged Ponzi scheme spearheaded by prominent Scientologist, Michelle Seward.
According to court documents obtained exclusively by Radar, plaintiffs Jeffrey and Marguerite Stabile loaned approximately $500,000 of their life savings to Seward.
Article continues below advertisement
Seward is accused of financing her "separate existence as a Hollywood movie and Broadway play producer and executive, and as philanthropist to causes associated with the Church of Scientology."
"In order to obtain the plaintiff's funds, Seward by and through her various financial services guaranteed principal and a 15% annual interest for five years," the documents state.
The loan is now in default, and no accounting of the funds has been provided to the couple after Seward "purportedly lost control of the funds," the documents claim.
One of Seward's companies, Windsor Pictures LLC., paid $400,000 to the Kirstie Alley Family Trust, according to the documents, and the plaintiffs also contend "that the funds the trust received are related to a premium financed life insurance transaction organized by the defendant and collateralized by $1,000,000 of investor funds."
Article continues below advertisement
They claim Alley "either actually knew, constructively knew, or should have known that the investment of $1 million, and the transfer of $400,000 into her trust ... was illegal, fraudulent and otherwise improper, and at the expense of persons such as the plaintiffs and those similarly situated."
The Sabiles' attorney, Robert Bastian, Jr. states in the third amended complaint, that Alley's Organic Liaison, and several other companies are "shell corporations and formed and structured to facilitate what has effectively become part of a Ponzi scheme wherein Seward has fraudulently diverted clients' assets, including, either directly, or indirectly, the retirement funds of these plaintiffs."
Alley claimed she worked with a team of scientists to create Organic Liaison, which is meant to "escort you into the world of organic weight loss" by combining an organic diet with "organic and natural diet supplements that replenish your body with essential vitamins, minerals and nutrients without the pangs of starvation or cravings you may have felt on other diet plans."
Critics believe the plan is based on a Scientology program called the purification rundown, which was even prescribed by L. Ron Hubbard himself.
The lawsuit seeks to recover the $500,000 loan, special damages, interest, attorney fees and punitive damages.
A rep for Alley did not immediately respond to Radar's request for comment.
Story developing.