Exclusive
Because She's Worth It? Kirstie Alley Bought $68 Million In Life Insurance, New Lawsuit Claims -- Friend Got $1M Commission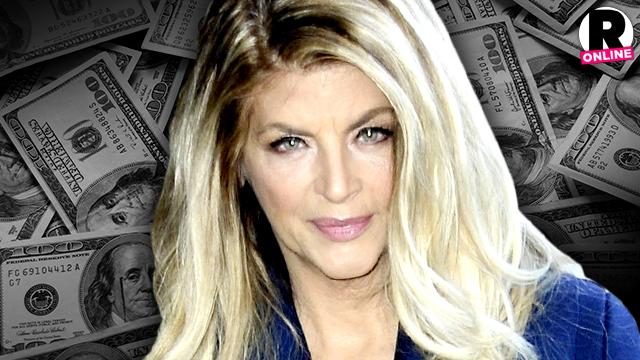 Kirstie Alley's net worth is reportedly only $30 million, but the actress once bought two life insurance policies totaling $68 million, RadarOnline.com has learned. Now, those policies are at the center of a Ponzi scheme lawsuit, over claims that Alley's insurance agent, Michelle Seward, got a $1.1 million commission that she then invested in the actress' controversial diet company.
Alley and Organic Liaison are named as defendants in a lawsuit over an alleged Ponzi scheme spearheaded by Seward, a formerly prominent Scientologist and friend of Alley. Jeffrey and Marguerite Stabile loaned approximately $500,000 of their life savings to Seward, and are suing her and other co-defendants over claims she used their money to fund her luxurious lifestyle as an A-list Scientologist.
Article continues below advertisement
According to recently unsealed court documents, Seward acted as Alley's insurance agent in obtaining two life insurance policies, one for $55 million, and the other for $13 million.
"It is clear from discovery in this litigation that Michelle Seward was, at a minimum, Kirstie Alley's agent on a $55 million life insurance policy. That much has been acknowledged by both Ms. Alley and Peggy Crawford at their respective depositions," the documents state. "It has been discussed throughout this litigation."
"Further testified to and discussed throughout the litigation, including emails by defendants, is that Ms. Seward was an agent to a $13 million dollar key man policy that was written on the life of Ms. Alley and which I am informed and believed insured largely to the advantage of Ms. Alley," the plaintiff's attorney Rob Bastian stated in the legal documents.
During the deposition of Alley's former assistant and Organic Liaison CEO, Peggy Crawford revealed that the premiums during a three-year period were a whopping $13 million, and financing had to be secured for the payments.
Article continues below advertisement
"I can give you an estimate...for the three years above that. Maybe $13 million," Peggy Crawford stated when asked about the cost of the policies.
When asked to break down the premiums for the two policies, Crawford stated, "Because the -- you know, we financed the policies. They were very expensive premiums far beyond what we could pay so we financed the policy…"
"We obtained premium finance with I think it's called First Funding, First Funding, and the agreement that Michelle had with Organic Liaison and Kirstie Alley Family - you know, Kirstie Alley for her and her trust was that she (Seward) would pay the commissions from - the interest on the policies," she said. "And then she (Seward) would invest the remainder of her commissions into Organic Liaison as an investor."
Crawford claimed that Seward had "wanted to invest in Organic Liaison … but she didn't have any funds to invest personally, so she wanted to write a key man policy and use the commissions that she earned from the key man policy to invest in Organic Liaison - so she proposed that there was some deal that she had with an insurance company that was of exceptional benefit to the company that also wouldn't cost the company because the company is a start-up, we didn't have the funds for an expensive policy, so her commissions would cover the payments on the interest on a premium finance loan as provide additional funds for her to invest."
Article continues below advertisement
The policies were issued in early 2010, but as Seward's alleged Ponzi scheme unraveled, she began missing payments to the finance company for the premiums.
Alley became concerned about the missed premium payments, and according to the court documents, "Ultimately, Kirstie Alley brought in another financial expert, associated with Morgan Stanley, to see if there was not a better way to finance the policies. Concerned on November 29, 2012, Seward initiated an email exchange with Crawford asking, 'How did this broker approached you? Is he a Scientologist?'"
Alley decided in March 2013 to terminate the policies.
Alley claimed she worked with a team of scientists to create Organic Liaison, which is meant to "escort you into the world of organic weight loss" by combining an organic diet with "organic and natural diet supplements that replenish your body with essential vitamins, minerals and nutrients without the pangs of starvation or cravings you may have felt on other diet plans," according to company materials.
Critics believe the plan is based on a Scientology program called the purification rundown, which was even prescribed by L. Ron Hubbard himself.
A final status conference in this new case is scheduled for August 13, with the jury trial scheduled to begin on August 17.
A source close to Alley told RadarOnline.com the court documents were "not accurate. … I can't go into details as the deposition is sealed and we are respecting the court's order. It sounds like the opposing side of the suit is grasping at straws ... in an attempt to win this in the press as they know they will lose in the courtroom."