The Claws Are Out! Katy Jumps Into Fray Raging Between Nemesis Taylor and Nicki Minaj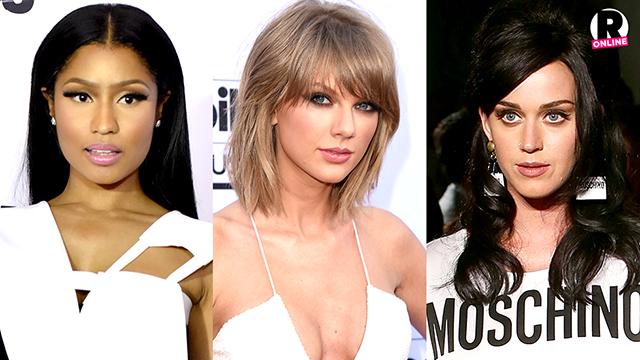 Oh, no she didn't! Katy Perry couldn't bite her tongue — or control her tweeting fingers — when she saw that her enemy Taylor Swift dared to take a thinly veiled dig at Nicki Minaj.
The vicious feud between the singers was sparked after Minaj failed to get an MTV Video Music Award nomination for her "Anaconda" video.
Seeming to reference Taylor Swift, who got a nod for "Bad Blood," Minaj tweeted: "If your video celebrates women with very slim bodies, you will be nominated for vid of the year."
Article continues below advertisement
Swift, thinking the dig was directed at her, wasn't having the slight, and she hit out at Minaj. "I've done nothing but love & support you," she tweeted at the rapper. "It's unlike you to pit women against each other. Maybe one of the men took your slot…"
Normally outspoken Minaj responded, writing "didn't say a word about" Swift, and told her that she loves her, too.
But whether or not Minaj was actually addressing Swift in her missives, Perry certainly had no problem getting in on the hate-fest and smacking down Taylor on Twitter herself.
Perry blasted that she was "finding it ironic" that Swift would pull out the "pit women against other women argument" when, she inferred, the 1989 artist had done just that by being some who immeasurably "capitalizes on the take down of a woman."
Perry seemed to be referring to the fact that Swift's "Bad Blood" is one big reference to their feud and Swift's way of bashing Perry.
Who do you think is right and wrong in this epic twitter takedown? Weigh in below.