Monster Mom No More? Kate Gosselin Keeps Her Cool Through Crying, Screaming & Pushing At Sextuplets' 11th Birthday Bash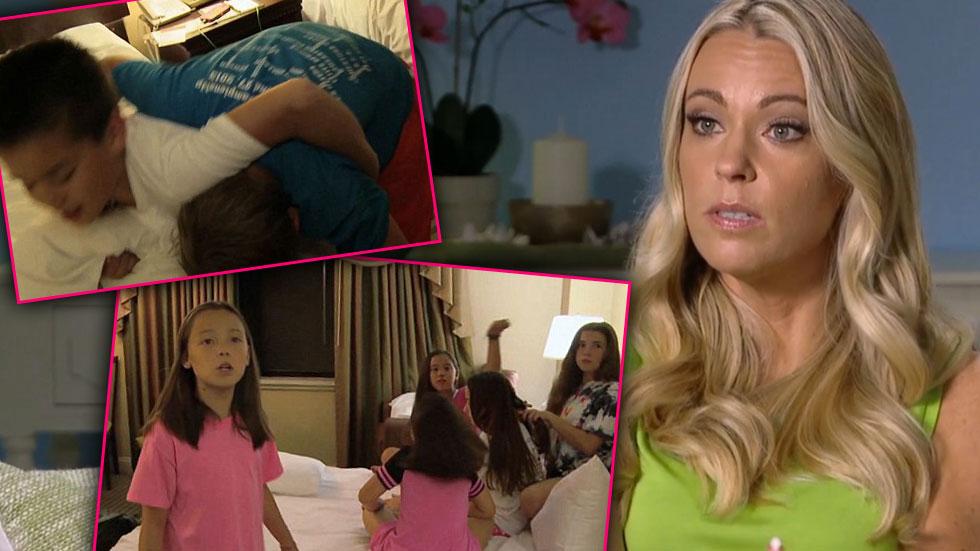 Kate Gosselin -- notorious for completely losing it on her eight children when they misbehave -- kept cool and calm during their party on Tuesday's Kate Plus 8 special.
The 40-year-old reality star, who has been accused of spanking her brood in anger, surprisingly didn't break down as her rambunctious sextuplets -- Aaden, Collin, Joel, Leah, Alexis and Hannah -- celebrated their 11th birthday with a nearly 24-hour extravaganza.
Article continues below advertisement
Kate started by promising fans she's changed since her early days as a mother-of-eight.
"I just can't be spending my energy on meltdown of the century every time something little happens," she insisted.
And shockingly, she stayed true to her word -- at least on camera!
First the sextuplets, along with 14-year-old twin sisters Mady and Cara -- and EIGHT other friends -- hit a local Pennsylvania roller skating rink to blow off some steam.
"I'm not running around trying to find this and that," she explained of how her behavior changed from birthday bashes in the past. "I got to watch and enjoy them having fun."
Watch the video on RadarOnline.com
Then, the huge group, also accompanied by nanny Laurie, had a pizza dinner at Caruso's in Lancaster.
"This is like my family on steroids," Kate marveled at the children, who were laughing and shouting throughout the entire meal.
Article continues below advertisement
"It strangely feels somewhat normal, just more noise and more kids," she said. "Drinks are about to spill right now but hey, whatever!"
Next up was a trip to a hotel for three cakes, which were designed by the birthday boys and girls themselves.
Though the sugared-up kids behaved themselves for dessert, chaos began to erupt during the giant sleepover party at the hotel.
The boys began jumping on the beds and wrestling, while the girls (in a separate room) complained and even cried over sleeping arrangements.
"Go to bed," Kate said. "It's always better in the morning."
Unfortunately for Kate, it wasn't.
Exhausted from falling asleep after 11 p.m., the kids began fighting over seats at breakfast. Furious that someone tripped her on accident, Alexis pushed one of her sisters.
Kate pulled her misbehaving daughter aside and calmly demanded she apologize.
"You do not shove people! I will give you five more seconds to do it appropriately," she ordered.
Thankfully, the friends' parents then came to collect their children, and the Gosselins headed home.
"I've made it 11 years and it's been no small task," Kate boasted of parenting the sextuplets, largely without their father, ex-husband Jon, 38.
Do you think Kate has really changed? Sound off in the comments.