'He Kissed Me With An Open Mouth': Joyce Mitchell Admits To Sexual Activities With BOTH Convicts She Helped Escape –– Read The Shocking Details Here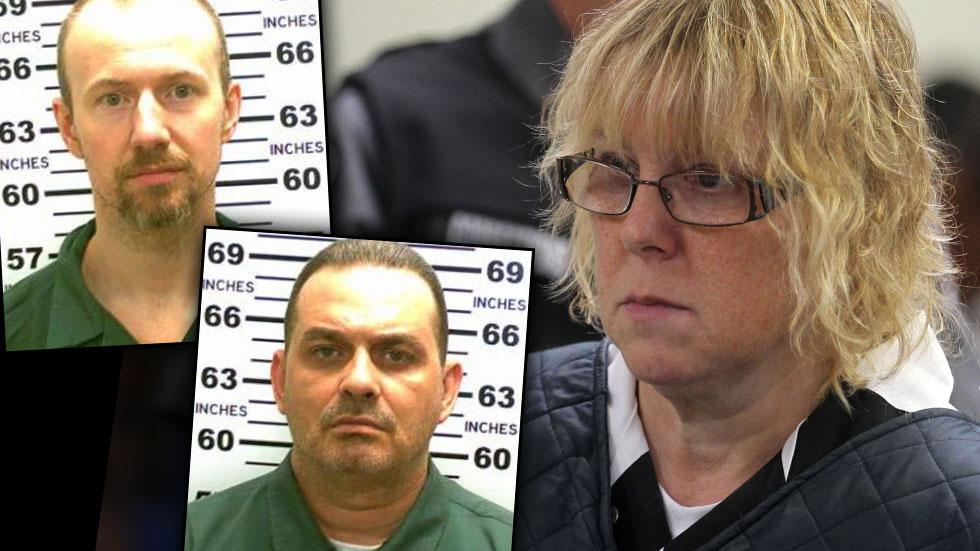 Joyce Mitchell, the New York prison worker who helped Richard Matt and David Sweat escape last month, admitted to engaging in sexual activity to BOTH men.
Mitchell, the married tailor shop supervisor at Dannemora's Clinton Correctional Facility, admitted to performing oral sex on Matt and forwarding nude photos and letters "of a sexual nature" to Sweat (who former prisoners had claimed she regularly had sex with within the walls of the maximum-security facility).
Article continues below advertisement
"I never had any sexual contact with Inmate Sweat, only Inmate Matt," she said. "I did take some naked photos of my breasts and vagina and gave them to Inmate Matt to give to Inmate Sweat.
"I do not know what they did with the photos."
The tawdry revelations came from NBC News, who obtained documents detailing the investigation into Mitchell.
"I enjoyed the attention, the feeling both of them gave me and the thought of a different life," Mitchell told authorities in the docs, confessing that she assisted in the plot after getting "caught up in the fantasy" the two convicted murderers provided her with.
"Matt told me they were getting out and we were all going to be together," she said.
Watch the Video on RadarOnline.com
Prior to the June 6 breakout, the married 51-year-old said that she was "startled" Matt began kissing her out of nowhere in April, when the two were sequestered in the prison tailor shop.
"He kissed me with an open mouth kiss," she said. "I didn't say anything because I was scared for my husband, who also works for the facility."
Article continues below advertisement
The following month, according to Mitchell, she performed oral sex on Matt after her asked her to, fearing his reaction if she didn't. Matt also cut a hole in his prison scrubs, worn under a coat, so Mitchell could touch his genitals, she said.
"This happened two or three times: The only other physical contact I had with Inmate Matt was when he kissed me at the bottom of the first set of stairs," she said. "He never touched any of my private areas."
Following Mitchell's guilty plea to first-degree promoting prison contraband and fourth-degree criminal facilitation, her attorney Stephen Johnston said that she acknowledges having made a "horrible mistake" in her interactions with the two men.
"She got in over her head into something that she never should have started," the lawyer said. "But she did and she's paying the price now. I think that to a certain extent, Matt got her to feeling good about herself, better than she had for a period of time, and she was swept off her feet a bit.