Exclusive
Caught In More Lies! Hank Still Fibbing To Kendra About Transsexual Sex Scandal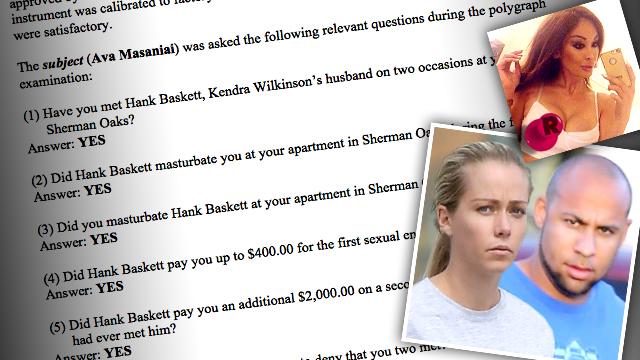 Kendra Wilkinson just can't handle the truth about Hank Baskett's transsexual affair — even in the face of evidence!
The 30-year-old reality star, who has called off her divorce from Baskett for now, seems to be falling for her straying husband's lastest lame excuse that the story RadarOnline.com exclusively broke last year was nothing but an odd incident that occurred when he went to buy some pot.
Baskett, 32, recently tried to insist that all his trouble started after he asked a pair of transsexuals, who were smoking marijuana outside a grocery store, if they could get him some of the drug.
Article continues below advertisement
The former NFL player claims the two gave him an address and he went to an apartment, where he had to use the bathroom. When he came out, he insists, the two women had stripped down.
"I froze," Hank says, adding one groped him through his shorts.
"I didn't engage in anything!" insisted Hank. "It was like a bank robbery. You never know when you'll freeze. I don't know if it was a couple of seconds or 15 seconds, because all I was saying was get out, get out, get out."
Unfortunately for Baskett, transsexual model Ava Sabrina London, who dished all the dirty details of her affair with Wilkinson's horny husband, took a lie detector test — and passed with flying colors, obliterating Baskett's lame story.
READ THE LIE DETECTOR TEST RESULTS
"There was no indication of deception during the polygraph examination," concluded former Secret Service agent Joseph Paolella — a member of the American Polygraph Association who served four U.S. Presidents and administered the test to London.