'Our Entire Family Overcame A Terrible Situation': Duggars Speak Out After '19 Kids And Counting' Axed By TLC After Josh's Shocking Molestation Scandal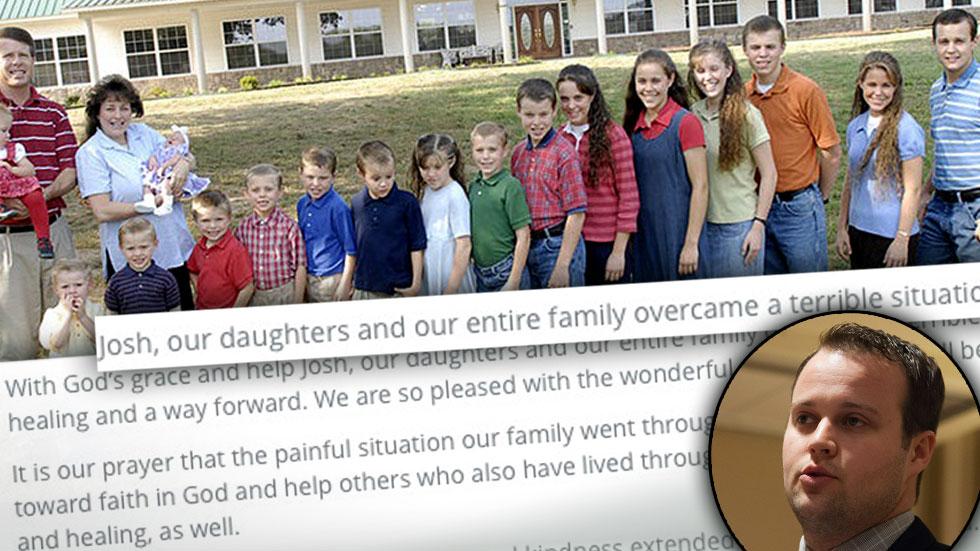 Article continues below advertisement
The Duggars said they're praying "that the painful situation our family went through many years ago can point people toward faith in God and help others who also have lived through similar dark situations to find help, hope and healing, as well."
Not burning any bridges, they said they "look forward to working with TLC on an upcoming special documentary" that the network said will air late next month, and feature two of Josh's molestation victims, sisters Jill and Jessa Duggar.
The Duggars, reflecting back on the better times, and said they felt fulfilled in sharing their devout lives with the public.
"Years ago, when we were asked to film our first one hour documentary about the logistics of raising 14 children, we felt that it was an opportunity to share with the world that children are a blessing and a gift from God," the family said. "Over the last several years people have said to us, 'We love your show!'
Article continues below advertisement
"We have always responded, 'It's not a show, it's our lives!' Our desire in opening our home to the world is to share Bible principles that are the answers for life's problems."
The family also made sure to thank the TLC film crews that spent more than "a decade" documenting their day-to-day lives.
"They have become like family to us," they said. "They have invested their time and energy into our lives and have been so loving and patient. We love and appreciate them so much!"
Refusing to express any disappointment with the undoubtedly-devastating decision, they said that "God's ... abundant grace have given us strength and joy even in the most difficult days."
The family wrapped up in thanking their fans for the "love, support, prayers and kindness" they extended, and provided a link subscribe to contact them.
As RadarOnline.com previously reported, the network canceled the show after 10 seasons, with TLC president Marjorie Kaplan saying that the decision came after a "month and a half of thoughtful consideration."