Bobbi Kristina Brown's Brother Lashes Out At 'Morbid' Spike In Twitter Followers After Her Death –– 'This Is Real Life For Me, Not A Trending Topic'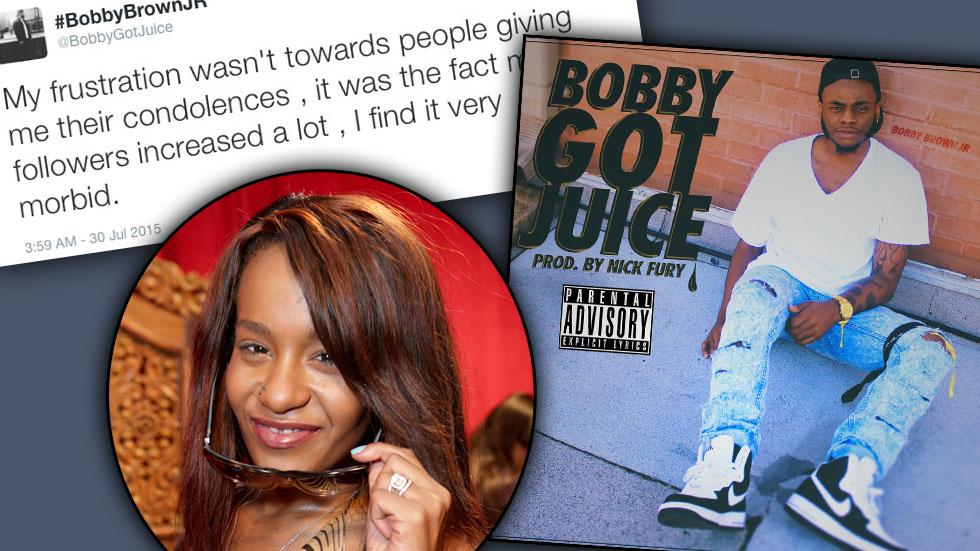 Bobbi Kristina Brown's younger brother lashed out on his Twitter account at the spike in followers he's received since his since his sister's death on Sunday at 22.
"I don't want these follows," Bobby Brown Jr., a hip-hop singer like his father/namesake, tweeted Wednesday. "People don't give a f**k about you unless you're relevant, and they don't love you till you're famous or gone."
He added, "This is real life for me, this is my life, my sister. Not a f**king trending topic," shunning any attempts from social media users to console him.
Article continues below advertisement
"People wanna be able to say they feel my pain. But nah," he wrote. "You f**king don't, you have no idea. you haven't been thru half of it."
Eventually, cooler heads prevailed, and the grieving sibling deleted the profane rant and issued a follow-up statement to better clarify the hard feelings behind his tirade.
"My frustration wasn't towards people giving me their condolences," he wrote. "It was the fact my followers increased a lot, I find it very morbid."
The classy music artist said, "I apologize for using vulgar language, it wasn't tasteful."
Bobbi Kristina's family is gearing up for two remembrances of the late 22-year-old, with a service in Alpharetta, Ga. Saturday, followed by a burial Monday in New Jersey.