Exclusive
'Teen Mom' Nightmare! Chelsea Houska's Bad Boy Baby Daddy Adam Lind Meets Her Boyfriend Cole DeBoer: Watch The Video!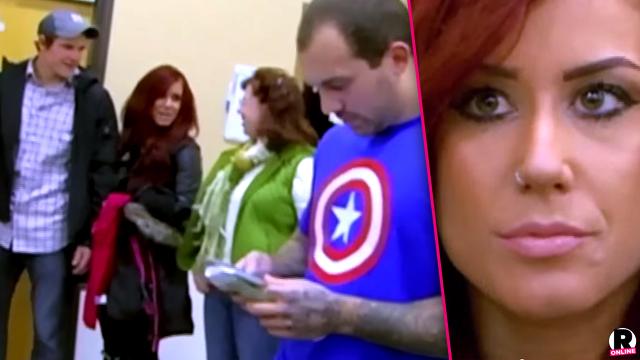 Awkward!
As RadarOnline.com exclusively reported last December, MTV reality star Chelsea Houska's boyfriend Cole DeBoer and her bad boy baby daddy, Adam Lind, first ran into each other at a local Sioux Falls, South Dakota, gas station. Fortunately, they both managed to avoid each other by staying in their respective cars.
But in a preview clip from the next episode of Teen Mom 2, the two men meet face-to-face for the first time at Houska and Lind's 5-year-old daughter Aubree's Christmas pageant.
Article continues below advertisement
While waiting for the cute school concert to start, the 23-year-old cosmetologist, with loyal DeBoer, 25, by her side, looks horrified when she spots Lind walking into the room.
Gripping her man's hand, Houska greets her troubled ex, who has three DUIs and a domestic stalking charge under his belt. (The charge, stemming from a fight with ex-girlfriend Brooke Beaton, was eventually dropped.)
"This is Cole," she politely tells Lind, 25.
"Nice to meet you. Adam," he says, shaking DeBoer's hand.
"Nice to meet you," DeBoer replies.
For once, Lind doesn't create chaos, and the adorable Aubree's singing performance goes off without a hitch.
A source close to the MTV sweetheart reveals it's been smooth sailing between her ex and her devoted man from that point forward.
"The next time they saw each other was at Aubree's preschool graduation," the insider says of the milestone event, which happened in May. "They didn't say anything to each other."
Fortunately, Houska and DeBoer never have to see Lind when tackling co-parenting.
"Visitation is with Adam's parents, so they are the ones to pick Aubree up and drop her off," the source explains. "His parents are very nice to Cole when they see him."
Watch the next episode of Teen Mom 2 Thursday night on MTV at 10 pm est, but first catch the preview clip below.