'How Could Someone Do This To A Good Family?': Hundreds Of Mourners Attend Funeral Of Murdered Washington D.C. Family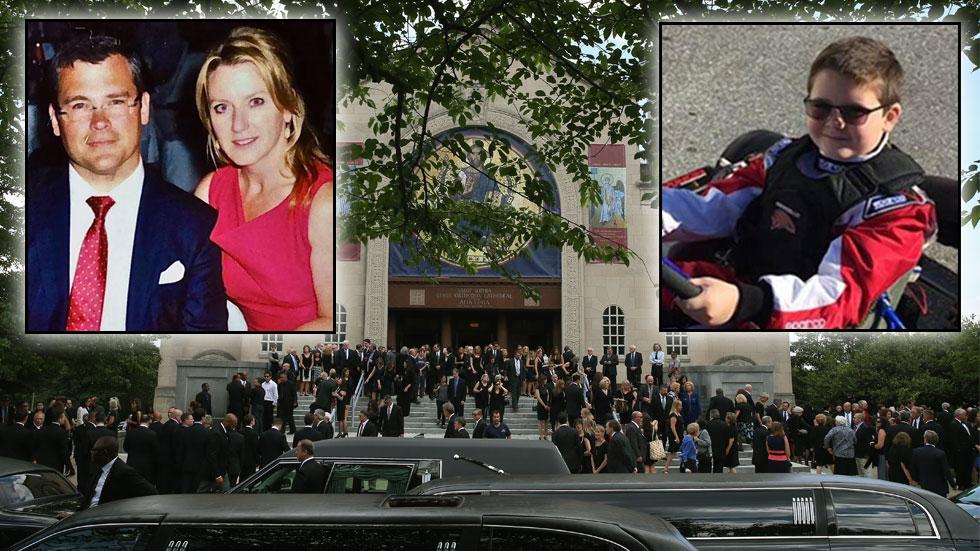 Hundreds of mourners showed up to St. Sophia Greek Orthodox Cathedral in Washington D.C. Monday to pay their respects at the funeral of Savvas, Amy and Philip Savopoulos.
As RadarOnline.com previously reported, the three family members and their and housekeeper Veralicia Figueroa were found dead May 14 after officials responded to reports of a fire at their home in the area.
The media was not allowed in the 90-minute service, but those who attended said both Greek and English languages were spoken. Greek Orthodox Church head Archbishop Demetrios led the service, and delivered a eulogy, along with a priest from the church.
Article continues below advertisement
Savvas Savopoulos' business peer Rocco Belmonte told the Washington Post that Archbishop Demetrios characterized his late associate as "humble, fair and compassionate.
"He said Philip's dreams were stolen, so we could not know the person he would have become," Belmonte said of the eulogy.
Amy Savopoulos' co-worker told the paper the somber event "was really about their spirit, their personalities," and "how giving" and "how thoughtful they were."
In addition to family, friends and work colleagues, the ceremony drew people who had learned about the tragedy in the news, such as Adina Crawford.
"How could someone do this to a good family ?" she said, according to the paper.
The family is survived by two teenage daughters Abigail, 19, and Katerina, 17; the girls were at boarding school at the time of the killings.
Authorities have charged Daron Wint, a 34-year-old man who used to work for Savvas Savopoulos' company American Iron Works, with first-degree murder in connection with the four deaths. Authorities suspect others were involved in the killings.