Vicki Gunvalson Exposes Eddie Judge's 'Hurtful' Cancer Jab At Brooks Ayers –– Find Out What Left Her 'SHOCKED'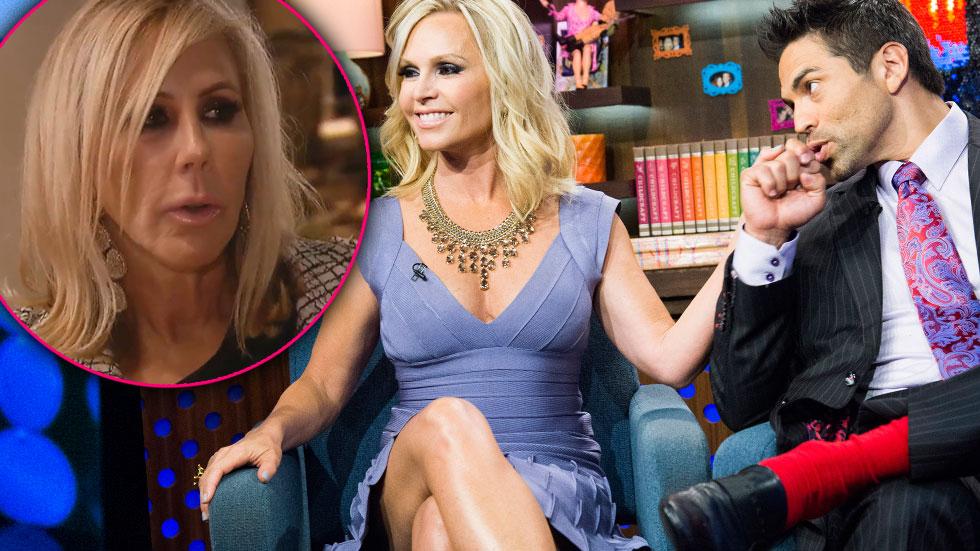 Vicki Gunvalson seems to be taking a kinder stance toward Tamra Barney -- but had no love for Barney's husband, Eddie Judge -- in her new Bravo blog.
The "O.G. from the O.C." took the reality TV hunk to task after he insulted her boyfriend Brooks Ayers, implying that his recent cancer diagnosis was a fraud.
The Real Housewives of Orange County mainstay recalled how she was on the phone with Barney from her Puerto Vallarta home, with Ayers and her brother present.
Article continues below advertisement
"When Tamra asked me how Brooks was doing, I told her he was having another round of chemo when we returned," Gunvalson said. "I was SHOCKED to hear Eddie mockingly cough in his hand "bull***t."
The 53-year-old beauty noted that the wise-cracking Judge "had not called Brooks in over 6 months, nor knew anything about his treatment, so for him to say that was very hurtful to Brooks."
She added, "How would Eddie know if Brooks was having chemo or not?"
And while Gunvalson was clearly upset at Judge, she seemed more at ease with his better half, Tamra Barney, clarifying her castmate's claims that she said Tamra had turned her back on her after Ayers' cancer diagnosis.
Gunvalson said that Barney was "very supportive" of her during a chat on the phone following the Oct. 2014 diagnosis, telling her, "He'll be fine, you got this and if there was anything we needed to let her know."
Article continues below advertisement
She clarified that past that chat, Barney didn't reach out to her until "months later" when the show's 10th season began filming, and that Barney was not accurate in saying that the two never spoke on the matter.
It was a relief to work things out with Barney in the episode "alone and without anyone else there to influence us," Gunvalson wrote -- especially when it comes to Ayers.
"I was glad to have Tamra finally agree to stop talking negatively about Brooks to anyone," she wrote. "He has been nothing but nice to her, and to have Tamra say that 'as long as he makes you happy, I'm good with it,' was like a load off my back."
While she's not relying on Barney for approval, Gunvalson's glad to take the "negativity" out of the situation.
Gunvalson also took a space in the blog to thank fans and well-wishers for the "encouragement" they've provided during Ayers' bout with cancer.
"Some of your stories have been so touching and we have received a lot of great recommendations about what you have done to rid your body of cancer," she wrote. "I have received so many wonderful stories of cancer survivors and all of the confusing information on how to treat this disease."
Gunvalson went on to say that she feels the best way to combat the deadly illness is "a combination of alternative medicine, holistic treatments, and western medicine."
The Real Housewives of Orange County airs Mondays at 9/8c on Bravo.