Another Race Faker: South Carolina Republican Governor Nikki Haley Lied About Being White -- Rails Against 'Voter Fraud'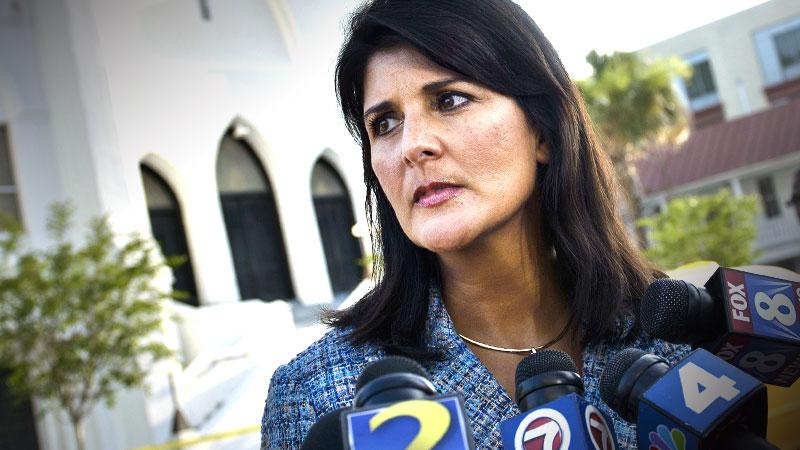 Weeks after news broke that former NAACP leader Rachel Dolezal had lied about being black, South Carolina Governor Nikki Haley is coming under fire for lying about being white!
For generations, people from all over the world have come to America in search of a new life and better opportunities for their children. But for ethnic minorities, becoming an integrated part of the melting pot can be easier said than done. However instead of grappling openly and honestly with the complexities of race, Haley took a shortcut -- the prominent Republican, who has led crusades against voter fraud, falsified her voter registration form, claiming that she was a white woman.
Article continues below advertisement
Governor Haley was born Nimrata Randhawa in Bamberg County, South Carolina after her parents emigrated from India. However, despite the fact that she is Southeast Asian, she repeatedly lied about her race on government forms, checking the box "white" on her driver's license and 2001 voter ID form.
State Democrats have complained that while Haley's race is not a factor in her ability to serve in office, her deception is. "She can't even tell the truth about her racial heritage," South Carolina Democratic Party Chairman Dick Harpootlian said.
Criitics have said that Haley claims her Indian heritage when it is convenient for her, similar to how Dolezal was criticized for claiming to be white during her discrimination lawsuit against Howard University, but then claiming to be black on her ombudsman application in Spokane. "Haley has been appearing on television interviews where she calls herself a minority—when it suits her," Harpootlian insisted. "When she registers to vote she says she is white. She has developed a pattern of saying whatever is beneficial to her at the moment."
Article continues below advertisement
Yesterday, Haley called for the removal of the Confederate flag from the capitol building, a move that critics have said she was cornered into by the recent slaying of nine people in an act of terror by Dylann Roof in a historically black church in Charleston. Although she did have the flag removed, she first took time to praise the flag and the people who love it, despite the fact that the flag served as the banner for a group of people who fought and died in an attempt to separate from the United States and preserve their right to enslave human beings.
"For many people in our state, the flag stands for traditions that are noble. Traditions of history, of heritage, and of ancestry... In no way does Dylann Roof reflect the people in our state who respect and, in many ways, revere it. Those South Carolinians view the flag as a symbol of respect, integrity, and duty. They also see it as a memorial, a way to honor ancestors who came to the service of their state during time of conflict. That is not hate, nor is it racism."