Just Like Josh Duggar? Sarah Palin Rips 'Pedophile' Lena Dunham For Sibling Sex Confessions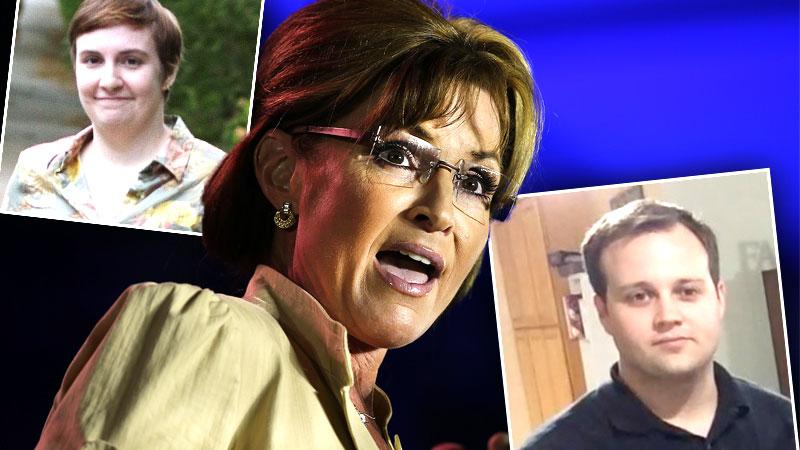 Former Vice Presidential candidate Sarah Palin is on the warpath again! She and her daughter Bristol both posted lengthy rants Thursday claiming Lena Dunham deserves just as much scrutiny and outrage as Josh Duggar.
Bristol labeled Dunham as a pedophile, writing "HEY LENA, WHY NOT LAUGH OFF EVERYONE'S SEXUAL 'EXPERIMENTS' AS YOU HAUGHTILY ENJOY REWARDS FOR YOUR OWN PERVERSION? YOU PEDOPHILE…"
Dunham came under intense media scrutiny after revealing in her memoir, Not That Kind Of Girl, that she was a self-described "sexual predator" who had sexually experimented with younger sister Grace, on several occasions, during their childhood. Grace later defended Lena, insisting it was "not harmful."
Article continues below advertisement
Meanwhile, Sarah praised her daughter for the rant, and said in her own Facebook post, "I'm not defending the Duggar boy's obvious wrongdoing over a decade ago. The main victim in any story like this isn't the perpetrator, it's the innocent ones so harmfully affected."
Critics "suggest Lena Dunham's sexual assault on her sibling is cute, and she's rewarded for it with fame and fortune," Palin claimed. "Meanwhile, they crucify another, along with an entire family, the Duggars."
Sound off in the comment section below, do you agree with Sarah Palin?