Newly Released Robin Williams Death Report Reveals Shocking Parkinson's Details — Was He Misdiagnosed?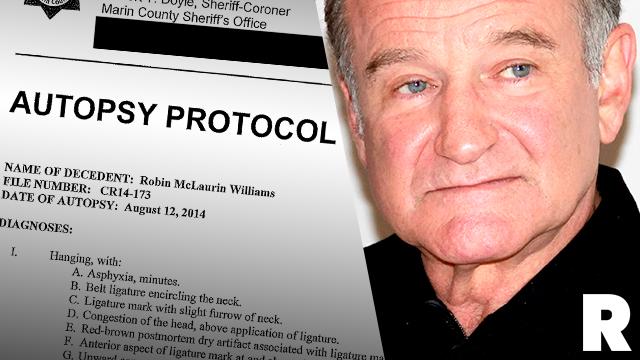 Just days after Robin Williams' suicide, his wife Susan Schneider revealed explosive news that offered some clarity to those seeking for answers in his death: According to Schneider, he had been struggling to cope with a recent diagnosis of Parkinson's disease. However, new details in the comedian's autopsy, obtained by RadarOnline.com, suggest that he may not have had Parkinson's disease at all. If he had known that, would he still have taken his life?
Article continues below advertisement
Williams' autopsy is clear that his death on August 11, 2014, was caused by asphyxiation, which occurred when he hung himself from a doorknob in his bedroom. However, the extensive neuropathologic report, obtained by Radar, raises many more questions, including whether he had been misdiagnosed with Parkinson's.
The findings of the report state clearly that Williams had Diffuse Lewy Body dementia at the time of his death, a form of dementia characterized by the presence of "Lewy bodies" or clumps of protein inside nerves cells. Externally, the report notes that Williams had a "history of left upper extremity tremor, impairment of left hand movement, anxiety, depression, insomnia, paranoia and unspecified cognitive impairments." But while all of those can be signs of Parkinson's, they are also consistent with the less-frequently diagnosed LBD.
The key difference between Parkinson's and LBD is that the abnormal proteins (Lewy bodies) are found mainly in the brainstem with Parkinson's, while they appear throughout the brain with diffuse LBD. Williams had the proteins throughout his brain matter, not just in the structures of the stem.
"In conclusion, these neuropathologic findings in this case support the diagnosis of diffuse Lewy body dementia …," the report states. "It is important to note that patients with diffuse Lewy body dementia frequently present with Parkinsonian motor symptoms and constellations of neuropsychiatric manifestations, including depression and hallucination."
Article continues below advertisement
Could Williams have been misdiagnosed?
"Lewy body dementia is often misdiagnosed as Alzheimer's disease or Parkinson's disease, but is a unique condition," Dr. James E. Galvin, a professor of neurology and psychiatry at NYU Langone Medical Center previously told the Lewy Body Dementia Association.
"LBD is the most misdiagnosed form of dementia," he said, "and it takes on average over 18 months and three doctor visits to receive a correct diagnosis of LBD." At the time of his death, in April 2013, Williams, then 63, was just nine months out from his Parkinson's diagnosis.
The autopsy report notes that Williams had begun taking Parkinson's medications in May 2014, with only "some improvement," and he had recently added another medication, levodopa, to his "regimen" in the hopes of finally finding some relief. The side effects of levodopa include suicidal thoughts.
If Williams was misdiagnosed, and if he lived long enough to find that out, would he still have felt desperately hopeless enough to take his own life? Today, nearly one year after his passing, there are still some questions that will never be answered.