'I Haven't Had A DNA Test': Rachel Dolezal Questions If Her White Mother & Father Are Her Biological Parents –– Plus 4 Latest Developments In Bombshell Story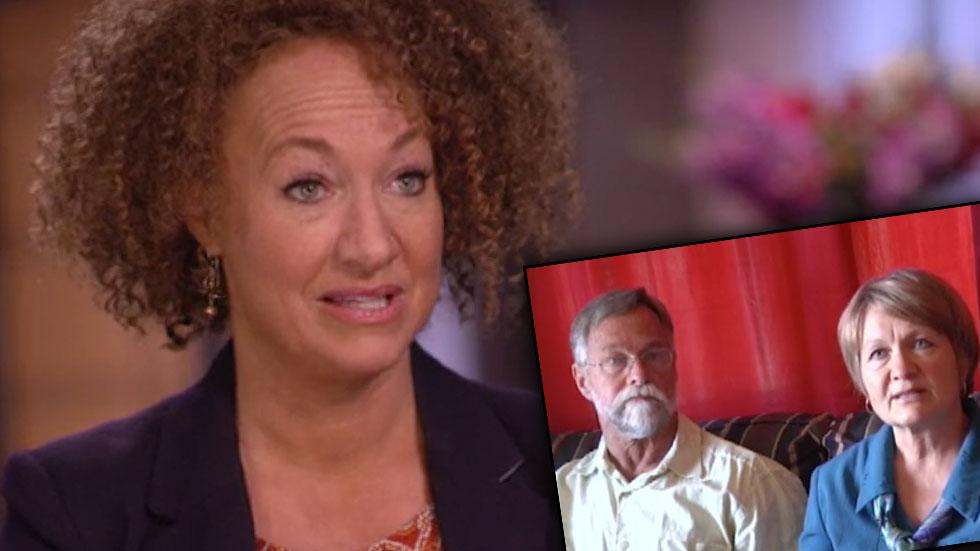 Rachel Dolezal's adopted sister Tuesday spoke out in support of her, while the ex-NAACP leader questioned if her white parents are actually her biological parents.
Questions Biological Parents
Dolezal called into question if her white parents Lawrence and Ruthanne are her actual biological parents while speaking with NBC Nightly News Tuesday. "Up to this point, I know who raised me -- I haven't had a DNA test -- here's been no biological proof that Larry and Ruthanne are my biological parents." In the chat with Savannah Guthrie, Dolezal said even her birth certificate gives her little peace of mind on the matter. "I'm not necessarily saying that I can prove they're not, but I don't know that I can actually prove they are," she said. "I mean the birth certificate was issued a month and a half after I'm born. Certainly there were no medical witnesses to my birth; it was in the woods."
Article continues below advertisement
Watch the video on RadarOnline.com
'I Fully Support My Sister'
Dolezal's adopted sister Esther Dolezal, 20, backed up her sibling, writing on her C'est La Vie blog: "I fully support my sister." Esther wrote she was amazed at "how fast people are willing to tear down someone who has worked very hard to get where they are," and "how, after all these years, and the civil rights movement, it still comes down to what color someone is." Esther took issue with the scrutiny Rachel is under at this point, asking a number of questions referring to her sister's body of work as a NAACP civil rights activist. "For something that is making a difference, someone that is making positive changes in this messed up world, why would someone want to stop the good work they are doing?" she wrote. "Why would someone want to reverse the positivity that has been created? Why does everything have to come down to race?" It's a rare show of support for Dolezal, who's been criticized by her adopted brothers Ezra and Zach, and at odds with her parents Lawrence and Ruthanne.
'Nothing About Being White Describes Who I Am'
In the NBC Nightly News appearance Tuesday, the 37-year-old -- who might get a reality show -- again elaborated on her state of mind when it comes to culture, saying, "Nothing about being white describes who I am" and that she feels "more black than white." She added that "in this moment, that's the answer," and "that's the accurate answer from my truth." She told Guthrie that she hopes her story can inspire a national dialogue on the sensitive topic. "I hope the dialogue continues to push against, 'What is race? What is ethnicity?'"
Parents Shoot Back At NBC Bombshell
Dolezal's mother Ruthanne called her daughter out for "making false statements" in reaction to her interview on the network Tuesday, specifically shooting down Dolezal's claim that as early as age 5, she was "drawing self-portraits with the brown crayon instead of the peach crayon and black curly hair." Ruthanne told KHQ, "That didn't happen," and that it's "disappointing to see that Rachel is still making false statements," as she was "hoping to see a change."