President Obama Uses 'N-Word' In Charleston Chat As City Rebuilds Spiritually Following Shocking Massacre –– 5 New Developments In National Tragedy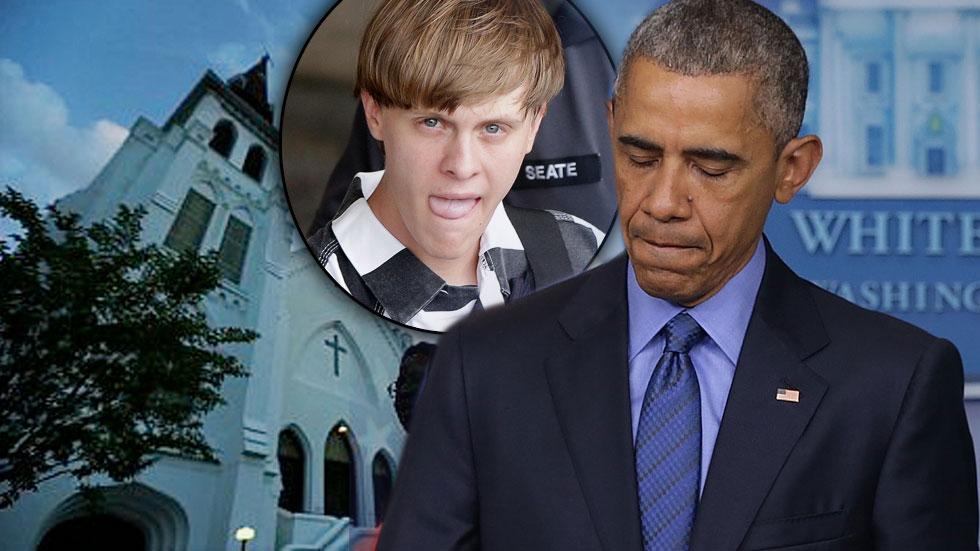 President Barack Obama uttered the N-Word to illustrate how racism still exists in commenting on the Charleston massacre, leading Monday's latest developments in the story.
'It's Not Just A Matter Of It Not Being Polite To Say N*gger In Public '
The commander-in-chief used raw language to make a clear statement on the state of racism in 2015, while appearing on comic Marc Maron's podcast Friday, as the duo discussed a number of issues stemming out of a white supremacist's shooting of nine black people in a Charleston, South Carolina's Emanuel African Methodist Episcopal Church last week. He told Maron, "Racism, we are not cured of it -- and it's not just a matter of it not being polite to say n*gger in public -- that's not the measure of whether racism still exists or not." The country's first black president said that "societies don't, overnight, completely erase everything that happened 200 to 300 years prior," and that hard feelings over slavery cast "a long shadow and that's still part of our DNA that's passed on."
Article continues below advertisement
Watch the video on RadarOnline.com (WARNING: Audio Contains Strong Language)
City Clings Close As Funerals Set Take Place This Week
Funerals for the nine victims in the horrific shooting -- State Sen. Clementa Pinckney, 41; Cynthia Hurd, 54; Tywanza Sanders, 26; Myra Thompson, 59; Ethel Lance, 70; Susie Jackson, 87; Rev. DePayne Middleton Doctor, 49; Rev. Sharonda Singleton, 45; and Rev. Daniel Simmons Sr., 74 -- are slated to begin this week, as a number of public demonstrations took place throughout the city to show the healing process in motion. Most notably, was a gathering of thousands of citizens on Arthur Ravenel Jr. Bridge, where they sang the inspirational hymn, "This Little Light of Mine." Summerville resident Juliett Marsh, who participated in the march, told the AP "it feels great" to show solidarity, as "there's so much love out here."
Watch the video on RadarOnline.com
'Black Lives Matter' Written On Confederate Statue
The phrases "Black Lives Matter" and "THIS IS THE PROBLEM. #RACIST." were spray painted on a statue in support of the Confederacy, with the inscription: "To the Confederate Defenders of Charleston," according to police spokesman Charles Francis. Local workers draped a tarp over the area that was spray painted on the statue, which stands less than two miles away from the church.
Article continues below advertisement
Watch the video on RadarOnline.com
Church Services Continue At Emanuel African Methodist Episcopal Church
Preaching alongside Pinckney's empty chair -- which had a black cloak over it -- Rev. Norvel Goff delivered an inspirational message to churchgoers on the somber Sunday. "The doors of the church are open: No evildoer, no demon in hell or on Earth can close the doors of God's church," he said. Goff said during the service that Dylann Storm Roof failed miserably in his scheme to inflame a race war. "Lots of folks expected us to do something strange and break out in a riot -- well, they just don't know us," the reverend said to a standing ovation from the pews. He noted that the families of the victims had risen above hate in stating their forgiveness to Roof during his hearing Friday. "I'm reminded of some news media persons that wondered why the nine families all spoke of forgiveness and didn't have malice in their heart -- it's that the nine families got it," he said.
Watch the video on RadarOnline.com
Political Ties
In the shooter Roof's racist manifesto, he cited a white supremacist group dubbed the Council of Conservative Citizens as one of his news sources for fact-gathering, mentioning "pages upon pages of these brutal black on White murders." The Council of Conservative Citizens' leader Earl Holt, according to The Guardian newspaper, made numerous donations totaling $65,000 to politicians including presidential candidates Rand Paul and Rick Santorum, as well as Texas Sen. Ted Cruz, who pledged to give back the $8,500 Holt donated. Holt distanced himself from the young bigot's massacre in an online response to the manifesto, writing, "The CofCC is hardly responsible for the actions of this deranged individual merely because he gleaned accurate information from our website."