Exclusive
Teen Bride? Paris Jackson's Boyfriend Asks Grandma Katherine For 'Blessing To Marry!'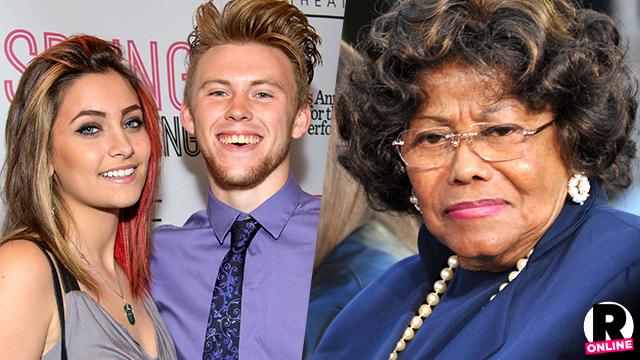 Paris Jackson and Chester Castellaw have only been dating a few months, but they think it could be forever. According to a source close to the Jackson family, the 17-year-old daughter of the late King of Pop, Michael Jackson, and her boyfriend, Chester Castellaw are so serious that they have already began discussing wedding plans — and asking her guardian, Katherine Jackson, for her blessing to marry!
Article continues below advertisement
"Chester has been ring shopping for Paris and he is planning on asking her to marry him," the Jackson family insider tells Radaronline.com exclusively.
But according to the source, Castellaw, an 18-year-old soccer player, will ask Paris' grandmother and co-guardian, Katherine Jackson, 85, for her blessing. And if he wants to wed before Paris' 18th birthday next April, he'll need it.
"Chester really respects her grandparents Katherine and Joe and wants to keep the relationship going good with them," says the source.
RadarOnline.com was the first to identify Castellaw, who is described as "an incredibly kind and sensitive young man that has been nothing but supportive and understanding of Paris" following her 18-month stint in a Utah rehab facility after her attempted suicide in July 2014.
Although they only started dating a few months ago, the couple is already so serious that "she has been describing him as her soul mate," the source tells RadarOnline.com. "She is totally head-over-heels in love with Chester and she has never been happier."
Article continues below advertisement
"They are practically living together and he is a really positive influence in her life, so the whole entire family supports their relationship."
"No one is trying to take her first true love away from her, but her family definitely does not think that she is ready to get married because she is still a teenager," says the source.
Paris, along with her brothers Prince, 18, and Blanket, 13, live with grandparents Katherine and Joe at the Jackson family home in Calabasas, Calif.
Do you think that Paris Jackson is too young to be married? Tell us your thoughts in the comments below.