Ex-Bryan Singer Accuser Michael Egan Cites Shaky Mental Health In Bid To Escape Testifying In Suit Claiming He Lied About Sex Abuse –– Read The Shocking Court Docs Here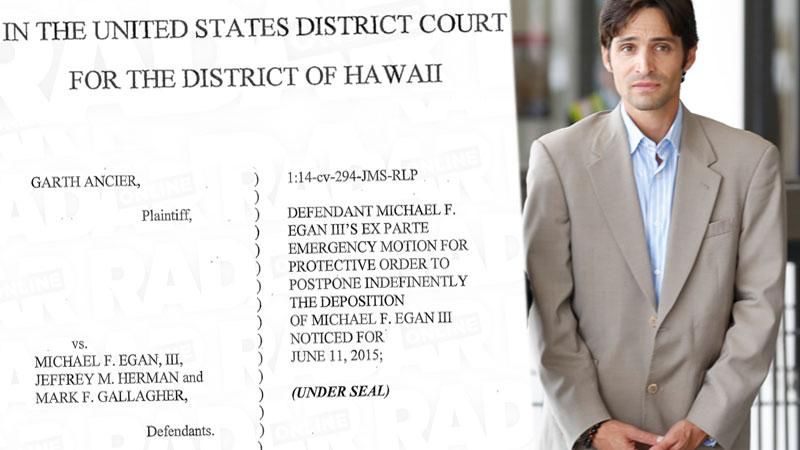 The man who once accused a group of Hollywood heavyweights of sex abuse says his mental health could be compromised as result of an ongoing lawsuit he's involved in.
Michael Egan, the actor/model who made major headlines last year in a legal battle with X-Men director Bryan Singer, filed papers in Hawaii June 9 looking to indefinitely postpone a deposition he was slated to give Thursday in Las Vegas.
Article continues below advertisement
Egan said he could have a nervous breakdown if exposed to the trauma of having to answer invasive questions in the deposition, which is in an ongoing lawsuit filed by another man he filed a sex abuse suit against, ex-television producer Garth Ancier.
Egan is under the care of a medical professional to cope with the post-traumatic stress he has as result of suffering sex abuse when he was younger, he told the court. A series of questions about the suit he filed against Ancier could lead to a psychological breakdown in the current state of mind he's in.
Ancier sued Egan (and his lawyers in the previous case) for malicious prosecution, claiming he lied about the abuse in an attempt to "smear, harass and severely injure" him.
The former producer added that Egan's former lawyers were on a mission "to troll for new clients who would enable them to shake down" other Hollywood bigwigs. (Ancier and Egan's ex-legal team eventually settled in their suit, with the attorneys apologizing to Ancier and paying him a seven-figure sum.)
While Egan's case against Ancier was dismissed, Egan said that his former lawyers did so without him knowing or approving, and that he intends to eventually refile the suit in his native Hawaii. Egan said due to his health issues, and a lack of money, he has yet to hire a lawyer.
Egan specifically distanced his old suit against Singer in the papers, saying he would "not discuss any action taken against Mr. Bryan Singer, other than the matter has been voluntarily dismissed, without prejudice, and has nothing to do with" the current proceedings.