Exclusive
Mile-High Meltdown! Lamar Odom Pounds Vodka Shots & Xanax, Sings R&B On Plane Ride To Friend's Funeral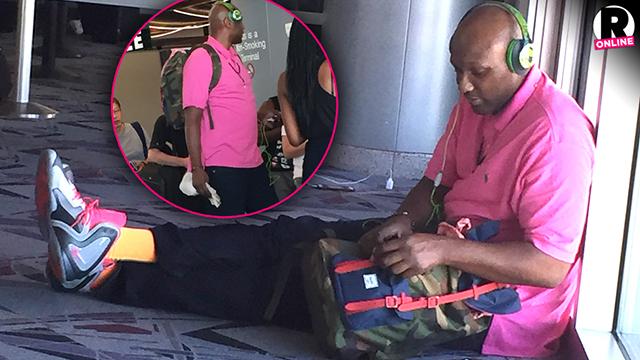 Lamar Odom's short flight from Las Vegas to Los Angeles Monday was a high flying nightmare! RadarOnline.com has learned that the basketball star pounded vodka and Xanax as he headed to his best friend Jamie Sangouthai's funeral.
According to an eyewitness on the flight, Khloe Kardashian's husband was in first class taking advantage of the free alcohol as he flew home following Sangouthai's death from a reported overdose Sunday.
Article continues below advertisement
"Lamar had two shots of vodka and he told the flight attendant 'Vodka and Xanax and I should wake up there,'" an eyewitness told RadarOnline.com. "And he was talking on the phone and told that person that he took Xanax and took two shots."
The 6'10" former LA Lakers player was "not relaxed on the plane," the source said. "He was singing Sade out loud while he was listening to his headphones and he was all over the place."
Though the flight lasts roughly one hour, "He went to the bathroom three times," the source said. "He jumped up as soon as the seatbelt light went off and went straight to the bathroom. It was a really bumpy flight and a flight attendant asked if he could make it back to his seat or if he wanted to use their jump seat. He didn't sit there; he just kept playing with the seat, pushing it up and down and laughing."
Article continues below advertisement
Prior to boarding the flight, Odom was chatting with other passengers and spoke about his Kardashian reality-show past.
"He said he never watched the show before he was on it," the eyewitness told RadarOnline.com. "He said he thought it was sick when it started. Then the pay checks started. And it wasn't so bad. He told someone 'I played for a popular team. We won a bit. And I was married to this woman for a little bit.'"
Odom has struggled with drugs in the past and it was recently reported in In Touch magazine that he was "doing an old-school drug called 'sherm,' which is taking a joint and dipping it in liquid PCP."
As RadarOnline.com reported, Sangouthai died Sunday of a reported drug overdose. He was facing tax debt and charges for methamphetamine possession at the time off his death.
Story developing.