Exclusive
Sister Vs. Sister! Kourtney Kardashian 'Envious' Of Khloe's 'Hot Body' As Scott Disick's Fat-Shaming Takes Its Toll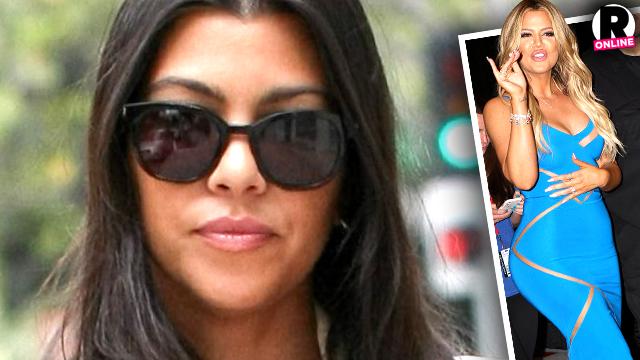 Kourtney Kardashian is having a hard time keeping up with sister Khloe's body transformation and a source close to the Keeping up with the Kardashians clan tells RadarOnline.com that her fat-shaming three-time baby-daddy Scott Disick is not making the situation any easier!
Thursday, the 36-year-old mother of Mason, 5, Penelope, 2 and 7-month-old Reign, posted an ab shot on her social media.
Khloe first flaunted her midsection back in February.
Article continues below advertisement
And earlier this month, Kourtney made the comparison more blatant, writing, "Today's Mission: To try and get my butt looking like Khloe Kardashian."
https://instagram.com/p/3es0FTE1vZ/?taken-by=kourtneykardash
According to the insider, her Instagram obsession is part sarcasm and part true jealousy.
"Now that Khloe has a hot body and she is getting all this attention, Kourtney feels like she has to catch up and has upped her workout in the hopes of getting the same results as her sister," says the source.
MORE ON:
Kourtney Kardashian
As RadarOnline.com previously reported Kourtney's longtime boyfriend, Disick, 32, "is always trying to remind Kourtney of how hot she used to be," while at the same time praising Khloe for how hot she has become.
"Scott is always complimenting Khloe on her boobs and her butt and it is really starting to get to Kourtney," the source tells RadarOnline.com.
Aside from the body factor, the source also adds that there is, perhaps, a deeper resentment building between Kourtney and her 30-year-old sibling.
"She is envious of her for other reasons, really," the source claims. "Khloe and Scott have this weird bond that Kourtney and him don't have and it has always been that way."
"They are like bros. Whenever sh*t is going down between Scott and Kourtney, Khloe is the first one that he turns to and that automatically puts her in the middle of their relationship. It just gets old."
Do you think that Khloe Kardashian is hotter than Kourtney Kardashian? Tell us your thoughts in the comments below.