Exclusive
Disgusting! Scott Disick Fat Shames Three-Time Baby Mama Kourtney Kardashian — His Latest Insult Revealed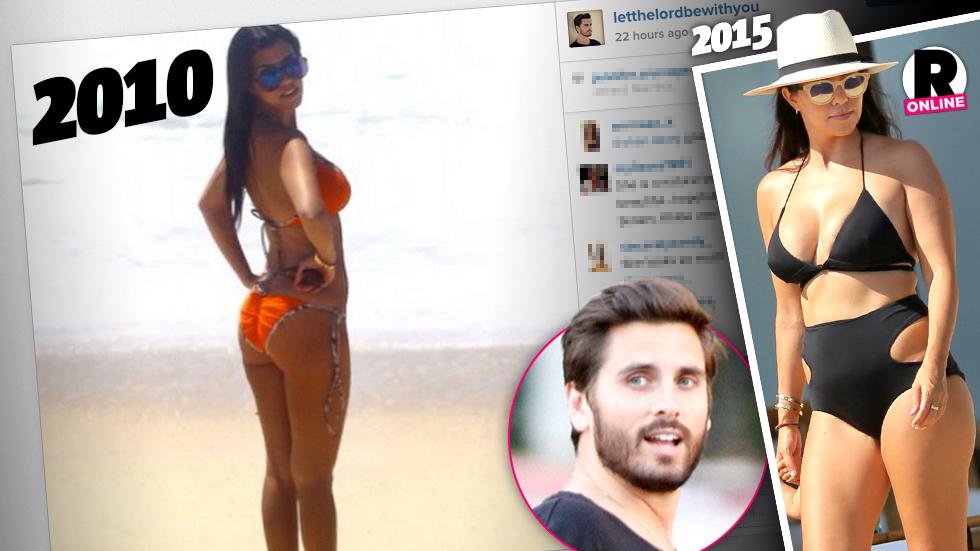 Kourtney Kardashian has stood by Scott Disick through multiple rehab stints and public meltdowns. And now, RadarOnline.com has learned, he's repaying her by criticizing her post-baby body!
Disick has made no secret of being super tough on Kardashian's body, and he showed he was up to his old tricks Wednesday by posting a photo of her in her bikini from 2010 — just days after shots of her looking much larger on their Mexican vacation went public:
Article continues below advertisement
Kardashian was quick to follow up with a post this morning saying that she needed "to start back hard core in the gym."
https://instagram.com/p/2q6fibE1jE/?taken-by=kourtneykardash
According to an insider, Disick, who is the father of Kardashian's three children – Mason, 5, Penelope, 2 and five-month old son, Reign – has been a relentless critic.
"Scott is always trying to remind Kourtney of how hot she used to be," the source tells Radar. "It is totally unfair because she had three children that were his doing, and for her to be able to look like she did prior to having the kids is just impossible."
"She is beautiful just the way she is and her friends are constantly telling her to just ignore his insults. But it is hard," says the source.
Fans of the 5-foot Kardashian beauty, who currently weighs in around 116 pounds, added support for their role model on Instagram with comments like "Start back?? You look incredible!! What's there to change?"
"Ever since Scott got on his fake health kick which he just drinks a smoothie and thinks he is healthy he has been extra cruel towards her," the source tells Radar.
Article continues below advertisement
"The sad thing is that she actually listens to his criticism and goes into a place in her head where she thinks she needs to be a size zero to keep him."
This dynamic has been going on for years, sadly.
In a 2013 episode of Kourtney and Kim Take Miami, Disick scolded Kardashian following the birth of their daughter, Penelope, because she weighed in at 105 lbs. Comparing her weight to when he met her, which was 93 pounds, Disick said, "Last time around you tried to watch what you were eating, after you had Mason… At least you were losing weight. If I would have fell in love with you a couple of pounds overweight, this would be my ideal weight, but I fell in love with you when you were super skinny."
While crying over his insults, Kardashian told him that she's "trying to lose weight the healthy way" Disick then barked at her and said, "Just do it faster — you're my piece of machinery!"
Do you think that Scott Disick is trying to set unrealistic expectations on Kourtney Kardashian? Tell us your thoughts in the comments below.