Kim Kardashian 'Afraid' Of Packing On Pounds During Pregnancy With Twins –– But Reality Star Continues To Indulge In Fattening Foods!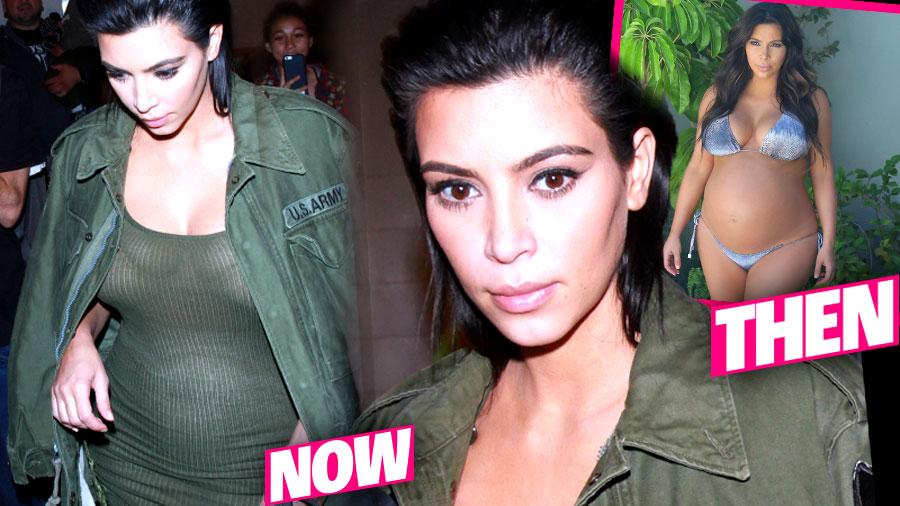 Kim Kardashian, pregnant with twins, "is afraid she'll gain a ton of weight during this pregnancy, too," an insider told In Touch Wednesday.
But even more troubling for the curvy 34-year-old is that her appetite has not let up in the early goings of her second pregnancy, as an eyewitness told the publication of the fashionista's feasting during a May 27 outing at the posh Beverly Hills eatery La Scala.
Article continues below advertisement
"Kim ordered all this crazy food -- including multiple appetizers like mozzarella sticks and several different pasta dishes like spaghetti Bolognese; she was splitting them with Kanye, but she was definitely eating like it was her last meal."
A source close to the first family of reality TV told the magazine that the heavy duty eating didn't end at the restaurant.
"Kim's been celebrating for the past several days with a lot of her favorite foods: Italian dishes, Mexican specialties such as enchiladas and churros, and classic American plates like chili cheese fries," the family friend told the magazine. "But she has said she's not going to get carried away with the cheese and calories this pregnancy."
Despite the slow start, insiders tell the magazine the Keeping Up With the Kardashians star is taking measures to restrict her baby weight gain to no "more than 45 pounds," after she packed on 70 during her pregnancy with North, coming under fire from Internet bullies over the temporary weight gain.
"She's talked to a nutritionist about healthier options -- this time, she's going to try staying away from all the junk food," an insider said. "She's planning on sticking to salads, grilled chicken and turkey burgers without the bun and make use of a trainer more in the early months.
"She's determined not to gain a ton of weight while carrying twins."
As RadarOnline.com previously reported, Kim last year said she believed the weight she put on during the pregnancy with North was God's way of humbling her.
"I'd think God was doing this for a reason," she told Elle U.K., adding that "he was saying, 'Kim, you think you're so hot, but look what I can do to you.'"