Exclusive
Bad Blood: Khloe Kardashian's Gang Fetish Terrifies Family After Friends Die Of Murder & OD — Just A Joke Or Dangerous Obsession?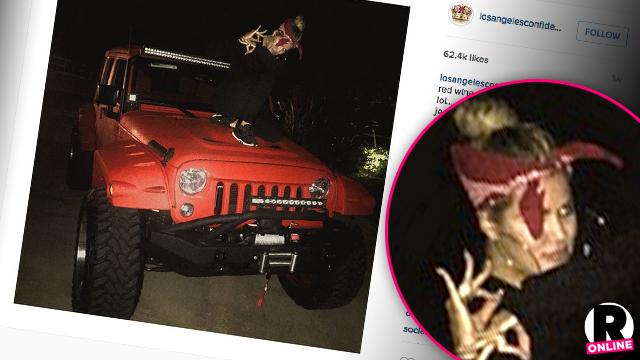 Khloe Kardashian is one tough cookie! But could she crumble in the wake of her friend Jamie Sangouthai's death? According to a source close to the Keeping up with the Kardashian star, family and friends are worried that she's been aligning herself with a dangerous gang.
As RadarOnline.com reported, Kardashian's former BFF Sangouthai died of a reported overdose on Sunday. Now, a source told RadarOnline.com, "Everyone in the family is and has been worried for Khloe, as well as Rob."
Article continues below advertisement
The 30-year-old rebel posed for a photo on Instagram recently wearing a notorious red bandana and giving the hand insignia that is used by the Los Angeles Bloods gang.
Rapper The Game shared this photo on his Instagram, along with a caption that read, "Bickin' it... off the red wine turns @KhloeKardashian into 2Pac lol.... she stole my rag.... Jumped on my jeep & said she not gettin down til I take her back to Compton...... (Hood facts: she used to drop me off in the hood after the studio everyday back in 05') we always been ? #WinnersCircle."
https://instagram.com/p/3daOApmoiF/
According to a the family insider, "Khloe has worked so hard to get in with this group of people … She wants to be seen as hardcore so bad and only hangs out with people that help in that image for her."
As RadarOnline.com previously reported, after Kardashian's friend Chinx Drugz was shot and killed in NYC in a drive-by shooting recently, five close associates of her on-again, off-again boyfriend, French Montana, were then arrested on the set of a music video in Brooklyn, NY for alleged possession of drugs, as well as guns.
And Sangouthai had a warrant out for his arrest related to methampetamines charges at the time of his death.
"After Chinx's murder and Jamie's death, Khloe should know better than to continue associating with all of these people," the source tells RadarOnline.com. "But she is already so far submerged in that whole crowd."