Exclusive
Rob Kardashian 'Crushed' By 'Tactless' Kris Jenner Gushing Over Kanye West's Birthday — After She Skipped Her Own Son's!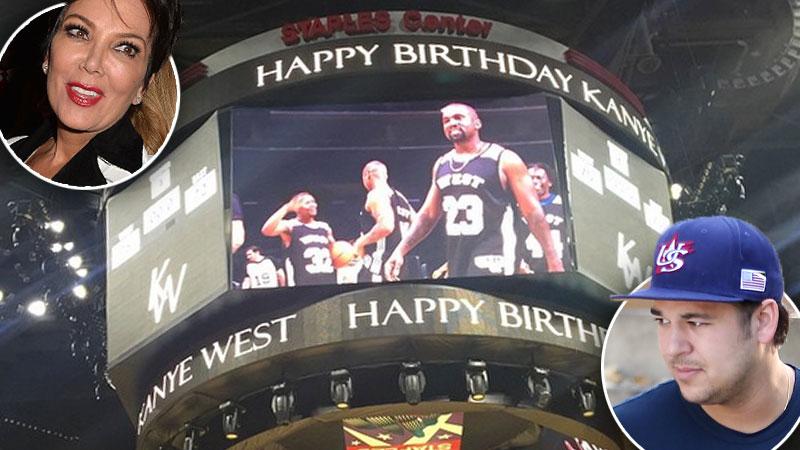 Has Kris Jenner given up on Rob Kardashian? The monster momager skipped her own son's birthday in March for a Mexican getaway with her friends, but she was front and center at son-in-law Kanye West's birthday party at the Staples Center Monday night. Now, an insider tells RadarOnline.com, Rob feels "crushed" that she seems to be favoring the rapper over her own flesh and blood.
"The fact that Kris was at Kanye's birthday party says it all," an insider told Radar. "She was also super involved in planning the party with Kim. But for her own son Rob's birthday, she ditched him to go on vacation with her friends! Rob thinks it is just disgusting and tactless and he was crushed by that."
Article continues below advertisement
According to the Kardashian family insider, "Rob sat home by himself alone last night" while the rest of his family celebrated the birthday, which was also attended by Jenner's boy toy Corey Gamble, as well as Khloe, Kylie and Kourtney Kardashian.
"Kris thinks that she can go and post support for Rob's sock line on her Instagram and everything is cool between them," says the source, "But it's not. Their relationship is strictly business and she has been distant from him for years.
Not only did the 59-year-old matriarch celebrate daughter Kim's baby-daddy's birthday, but she also shared a photo of her Instagram, calling West "her son."
https://instagram.com/p/3q59KYG-As/?taken-by=krisjenner
Do you think that Kris Jenner was wrong for celebrating with Kanye West for his birthday and skipping her son Rob Kardashian's? Tell us your thoughts in the comments below.