Business As Usual? Josh Duggar Celebrates His Wife Anna's Birthday –– Continues Smiling Through Molestation Scandal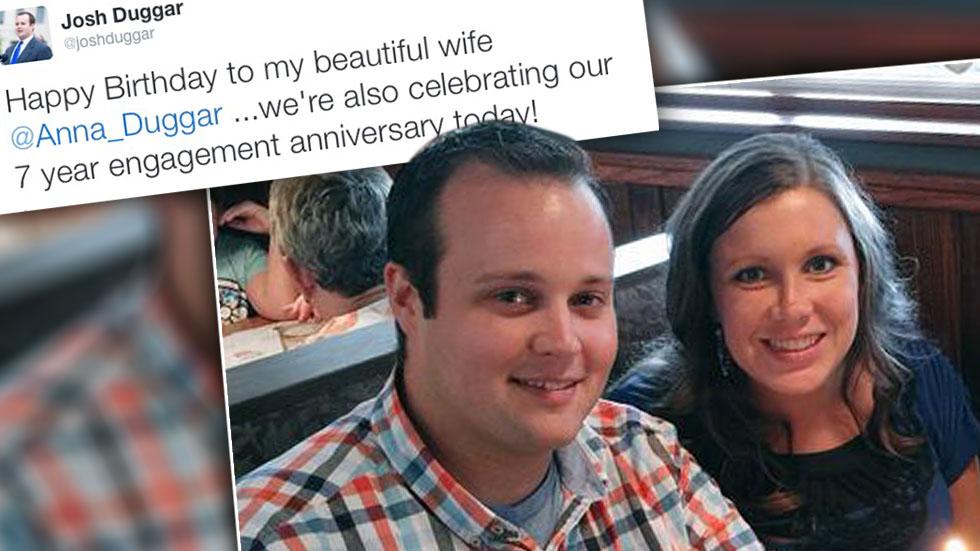 Scandal-plagued Josh Duggar continues trying to cling to his family man image, posting an image of he and his wife Anna celebrating two milestones on Tuesday.
"Happy Birthday to my beautiful wife @Anna_Duggar ...we're also celebrating our 7 year engagement anniversary today!" he wrote.
The post was the latest in a series of upbeat, family-oriented musings from the 27-year-old, who kept a very low profile last month after admitting he'd "acted inexcusably" as a teen in his molestation of five underage girls, leading to his resignation from his Family Research Council job and moving from Maryland back to Arkansas.
Article continues below advertisement
The 27-year-old Anna has three kids with Josh -- daughter Mackynzie Renee, 5; son Michael James, 3; and son Marcus Anthony, 23 months -- and is currently pregnant. She has remained loyal to her husband through his darkest of days, admitting she was initially shocked upon learning of what her spouse had done in his past.
"I know who Josh really is -- someone who had gone down a wrong path and had humbled himself before God and those whom he had offended," she wrote last month. "Someone who had received the help needed to change the direction of his life and do what is right."
As RadarOnline.com previously reported, the Duggars continue to use social media to show their fans they're the family-minded folks who once ruled the reality TV roost, with Josh himself recently showing more than 119,000 of his Twitter followers both his Father's Day celebration with dad Jim Bob, and his son Michael's birthday.