Exclusive
Debt Shame! Jim Bob & Michelle Secretly Embroiled In Bitter Foreclosure Lawsuit, Could Lose Home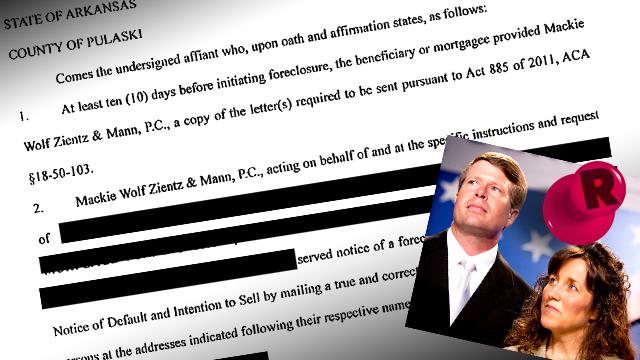 The "debt-free" Duggars have always bragged about paying for their large Tontitown, Arkansas, home upfront with cash— but 19 Kids And Counting parents Jim Bob and Michelle been hiding a big, embarrassing secret from fans.
RadarOnline.com can exclusively reveal that the ultra-Christian couple currently has a property in foreclosure!
According to Washington County circuit court documents obtained by Radar, a woman named Kathryn Keller—of no known relation to the Duggars' daughter-in-law Anna Keller Duggar— sold her three bedroom, three bathroom home in nearby Fayetteville to Jim Bob, 49, and Michelle, 50, for just $10 on August 21, 2011.
Article continues below advertisement
Two years later, Keller, who seems to have still been living in the home, was so behind on paying her $162,500 mortgage, Novastar Mortgage Inc. began initiating foreclosure proceedings.
On August 20, 2014, Jim Bob and Michelle slapped the mortgage company's trustee, Deutsche Bank National Trust Company, with a lawsuit, claiming they were never informed about the foreclosure.
"Plaintiffs were not noticed as required by state," the couple wrote.
The Duggars are now asking a judge to order that they can buy out the home and save it from foreclosure.
"Plaintiffs were not put on notice of the statutory foreclosure and therefore have an absolute right of redemption, which was not extinguished by the foreclosure referenced hereon," they argued.
Though a non-jury trial was scheduled for May 12, 2015, both parties requested to push back the date.
Jim Bob and Michelle aren't the only Duggar couple to get caught up in a debt scandal.
In April, disgraced son Josh, 27— who was accused of molesting at least two of his little sisters in a damning 2006 police report — owed the state of Arkansas nearly $14,000 in back taxes. He and wife Anna, 27, eventually paid up the following month.