PETA Slams Teen Mom Farrah Abraham For Posing With Zoo Lion Cub On Mexican Vacation – See The Controversial Photo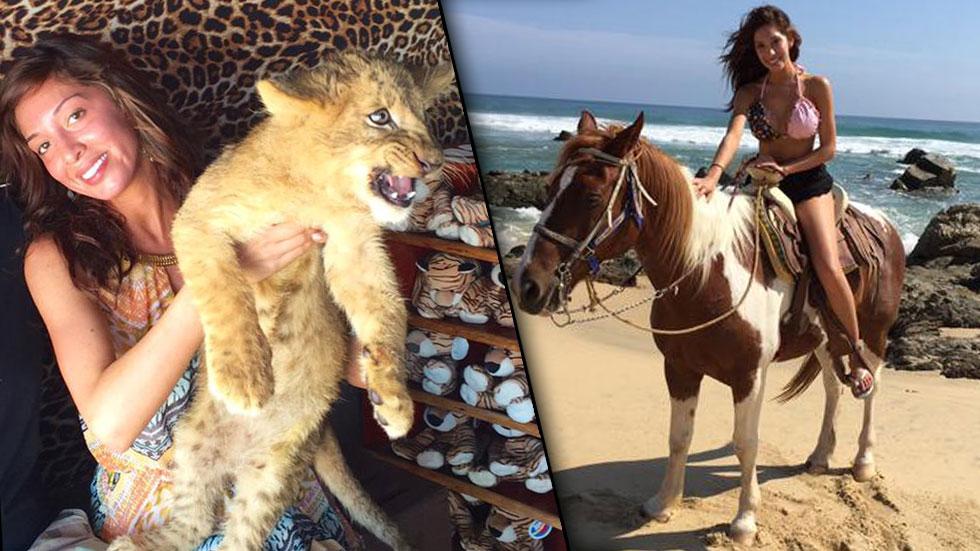 Teen Mom OG's Farrah Abraham recently returned from her 24th birthday trip to Cabo San Lucas with boyfriend, Simon Saran, but caused quite the stir when she shared controversial photos from their vacation.
After sharing a slew of well-documented interactions with local animals, the adult film star subjected herself to plenty of scrutiny. But most shocking of all, Abraham posted a snap of herself holding a lion cub during the romantic getaway.
Article continues below advertisement
"My Lion Cub doesn't let anyone mess with me WatchOut," Farrah captioned the photo.
But what the reality star may not know is that in many exotic locations – like Thailand – animals are medicated to remain drowsy so tourists can pet them without risk.
A rep for PETA exclusively tells RadarOnline.com that Abraham should be aware of the harsh conditions of drive-by zoos in tropical locations:
"PETA is certain that Farrah, like any mother, would be horrified to learn that lion cubs used for photo ops are torn away from their mothers shortly after birth so that they can be passed from one stranger to another — and that when they grow too big to be used as props, these animals are often abandoned at appalling roadside zoos, slaughtered for meat, or used as targets in canned hunts. We hope that Farrah will stick to animal-free tourism in the future."
What's also interesting to note is that Abraham clearly cut boyfriend Saran out of her photos from the trip. She also hasn't posted any pictures of the two together – a surprising move for the otherwise outspoken social media user.
Abraham even failed to tag Saran in any of the shots she posted, leading many to believe the couple had a falling out of some sort since the trip. Let's hope there isn't any trouble in paradise!
Are you offended by Farrah's photo with the lion cub? Why do you think Simon isn't in any of her pics? Let us know in the comments below!